Moenkopi Yurts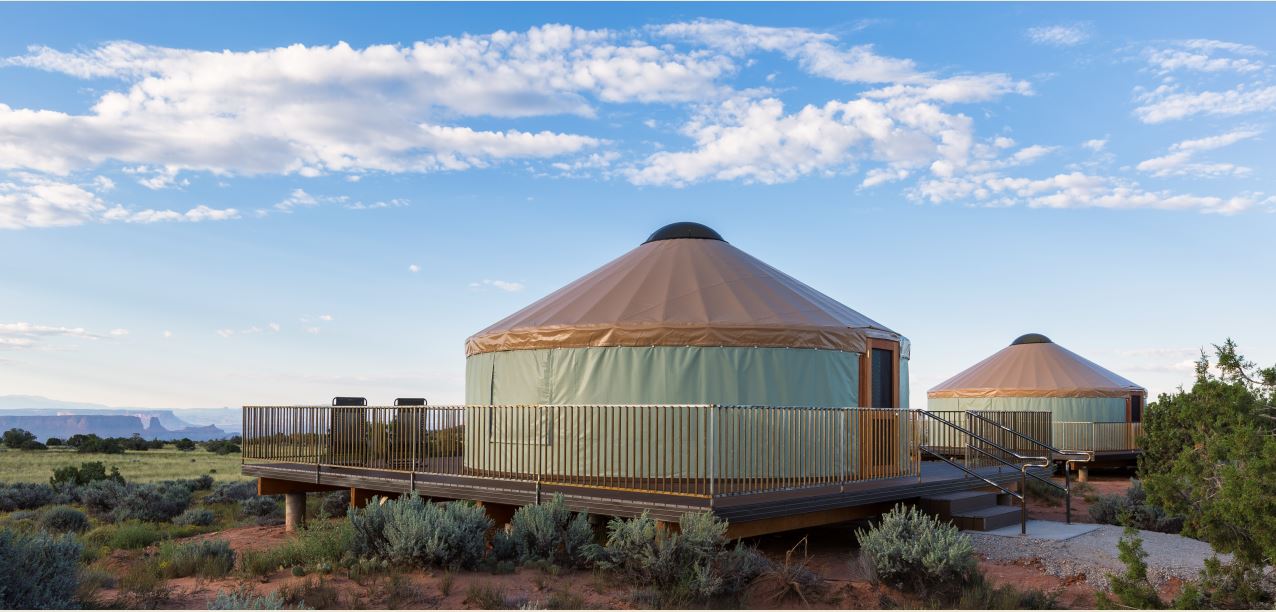 Photo by Bret Edge Photography
---
Effective September 1, 2022 yurt reservations will require a two night minimum stay.  Please DO NOT contact the park to override the minimum stay requirement in the reservation system.  If yurts are available for one night only, they will be available at the park on a first come – first served basis.
A perfect location for experiencing sunrise, sunset, and a bit of seclusion, the Moenkopi Yurts offer a glorious camping experience up at Dead Horse Point State Park.  With sweeping views and a private spur to the Intrepid Trail System, this yurt site can be your quiet spot of heaven while enjoying the Moab area.
Each yurt of the five Moenkopi yurts contains sleeping space for up to six people, in the form of a bunk bed and a pullout futon couch. An outdoor propane grill allows for cooking on-site and the propane is provided by the park. Heating, air conditioning, and electrical outlets are available, and tables are available both inside and outside of the yurt. Modern restroom facilities are located within easy walking distance. Bedding is not provided.
Nightly Rate: $150.00 
Check-in: 3:00 pm      Check-out: 12:00 pm
Extra Vehicle Fee: $20.00 (there is a maximum of 6 persons per yurt)
Door Code: The code for your yurt will be listed on your email confirmation. If you do not get an email with the code please contact the park between the hours of 9:00 AM and 5:00 PM.
Things to Know:
Dead Horse Point does not have a natural water source.  Please conserve water while staying at the yurts.  The spigots should be used for drinking, cooking, and cleaning, please do not play with the water or use it for bathing.
Fires are permitted in the established fire pits of the park; however, wood can not be gathered from the environment.  Bundles of wood are sold at the Visitor Center and Entrance Station or in Moab.  Bring your own camp chairs to enjoy your fire.
Help us out by keeping your yurt clean.  Please sweep the floor before you leave and cleaning spray and rags are available to wipe up any spills.  Cooking must be done outside and no open flames are allowed in the yurts.  Gas grills are provided for cooking use.  Keep indoor furniture indoors.  Take your trash to the dumpsters by the dump station as you leave.
Heating and cooling units exist in each yurt.  Please turn them off upon departure.
Trash collection is costly at the park.  Please consolidate and compact trash before putting it in our dumpsters or take it with you to a town.
Pets are allowed in the Moenkopi Yurts (yurts 1 – 5) ONLY.   Guests will be charged a non-refundable fee of $20 per pet, per stay. A maximum of two pets are allowed per yurt. Pet owners are responsible for their pets at all times. Pets must be kept on a 6′ leash, or shorter while in the park, or confined in a crate if left in lodging unattended. A $150 violation fee will be imposed for the following violations: not declaring the pet(s) prior to arrival, pet waste not cleaned up around the site, unattended pet not crated, more than two pets, damage to the site including pet waste inside lodging sites (cost to repair all damages). By reserving this site, you agree to these terms and conditions.
To make a camping reservation, contact Reserve America at 1-800-322-3770, or visit www.reserveamerica.com.
* Photos by Bret Edge Photography