Moenkopi Yurts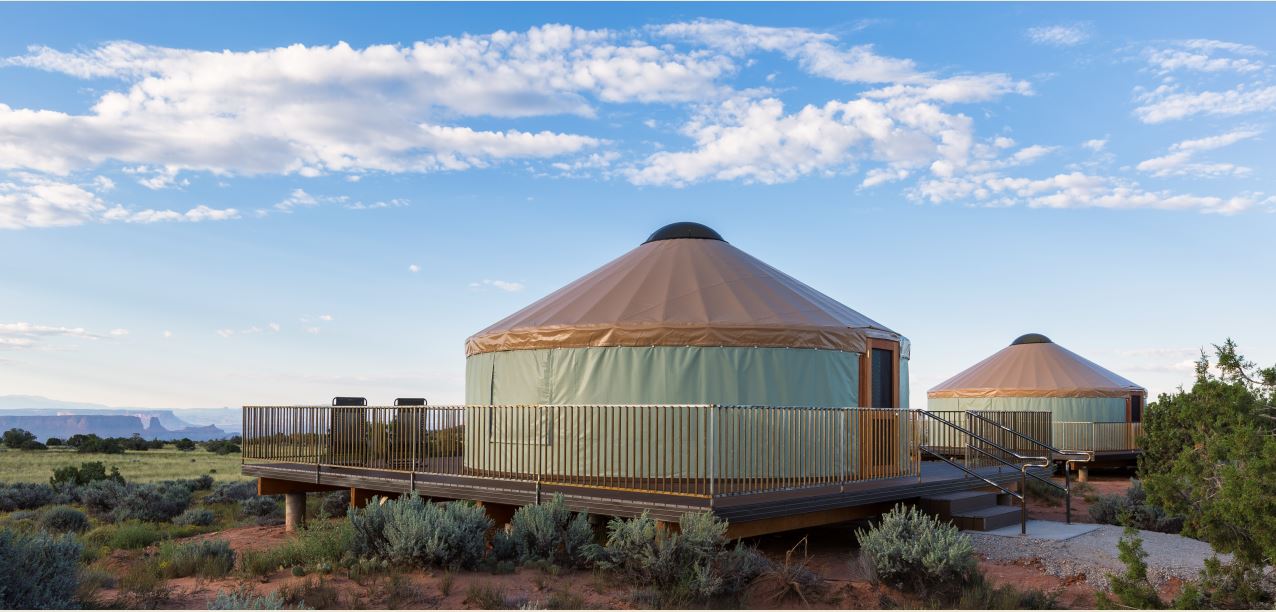 Photo by Bret Edge Photography
Please be advised that Utah State Parks has hired a contractor to pave the dirt road into the Moenkopi Yurt area and the adjacent overflow mountain bike parking area at Dead Horse Point State Park in June 2020. As a result of this project, the Moenkopi Yurts (#1-5) will NOT be available on the reservation system from June 21st through June 26th. The rest of the park will remain open to the public during this construction project.
In preparation for the June 21st through June 26th paving closure the contractor will be operating heavy equipment and placing additional gravel on the road and the parking lot next to the Moenkopi yurts on multiple occasions to prepare the surface for pavement. This dirt work will be completed during daylight hours and the contractor will do everything in their power to minimize the impacts of construction on park visitors staying in the Moenkopi Yurts. We encourage guests to make reservations for the Wingate Yurts (#6-9) if you do not want to have your vacation conflict with construction work during the month of June. The contractor intends to do the dirt work during the week to avoid any construction work on Saturdays and Sundays.
Thank you for choosing Dead Horse Point State Park for your next adventure.
---
A perfect location for experiencing sunrise, sunset, and a bit of seclusion, the Moenkopi Yurts offer a glorious camping experience up at Dead Horse Point State Park.  With sweeping views and a private spur to the Intrepid Trail System, this yurt site can be your quiet spot of heaven while enjoying the Moab area.
Each yurt of the five Moenkopi yurts contains sleeping space for up to six people, in the form of a bunk bed and a pullout futon couch. An outdoor propane grill allows for cooking on-site and the propane is provided by the park. Heating, air conditioning, and electrical outlets are available, and tables are available both inside and outside of the yurt. Modern restroom facilities are located within easy walking distance. Bedding is not provided.
Nightly Rate: $140.00 ($120.00 for off-peak dates November-February).
Check-in: 3:00 pm      Check-out: 12:00 pm
Extra Vehicle Fee: $15.00 (there is a maximum of 6 persons per yurt)
Door Code: The code for your yurt will be listed on your email confirmation. If you do not get an email with the code please contact the park between the hours of 9:00 AM and 5:00 PM.
Things to Know:
Dead Horse Point does not have a natural water source.  Please conserve water while staying at the yurts.  The spigots should be used for drinking, cooking, and cleaning, please do not play with the water or use it for bathing.
Fires are permitted in the established fire pits of the park; however, wood can not be gathered from the environment.  Bundles of wood are sold at the Visitor Center and Entrance Station or in Moab.  Bring your own camp chairs to enjoy your fire.
Help us out by keeping your yurt clean.  Please sweep the floor before you leave and cleaning spray and rags are available to wipe up any spills.  Cooking must be done outside and no open flames are allowed in the yurts.  Gas grills are provided for cooking use.  Keep indoor furniture indoors.  Take your trash to the dumpsters by the dump station as you leave.
Heating and cooling units exist in each yurt.  Please turn them off upon departure.
Trash collection is costly at the park.  Please consolidate and compact trash before putting it in our dumpsters or take it with you to a town.

Pets are not allowed within the yurts.

  Pets must also be attended to at all times while in the park so they can not be left in cars or leashed outside the yurts.  If you know someone staying in a Wingate or Kayenta campsite with a pet, remember that the pet can not visit the yurt.  If you would like to spend the night in the park with your furry friend, consider the Wingate or Kayenta Campgrounds. 

Dogs that meet the ADA definition of service animals are welcome in the yurts. You may be asked by park staff if your dog is required because of a disability, and/or, what task your dog has been trained to perform according to the ADA compliance requirements. The ADA does not recognize emotional support animals and a doctor's letter does not give an emotional support animal public access rights.

For more information click here. 
If you are a customer with allergies to dogs please be advised that there is a possibility that service dogs have been present in the park's yurts.
To make a camping reservation, contact Reserve America at 1-800-322-3770, or visit www.reserveamerica.com.
* Photos by Bret Edge Photography