2023 Spider Festival
July 29, 2023
Join us from 10:00 am to 4:00 pm at the Antelope Island Marina for spider-themed presentations, crafts, guided walks, community science, face-painting, food and more to learn about these fascinating residents of Antelope Island and Utah!
Bookmark this page for quick access to all of the fun and exciting activities that will be available. Information will also be posted to our Spider Fest Facebook Event Page.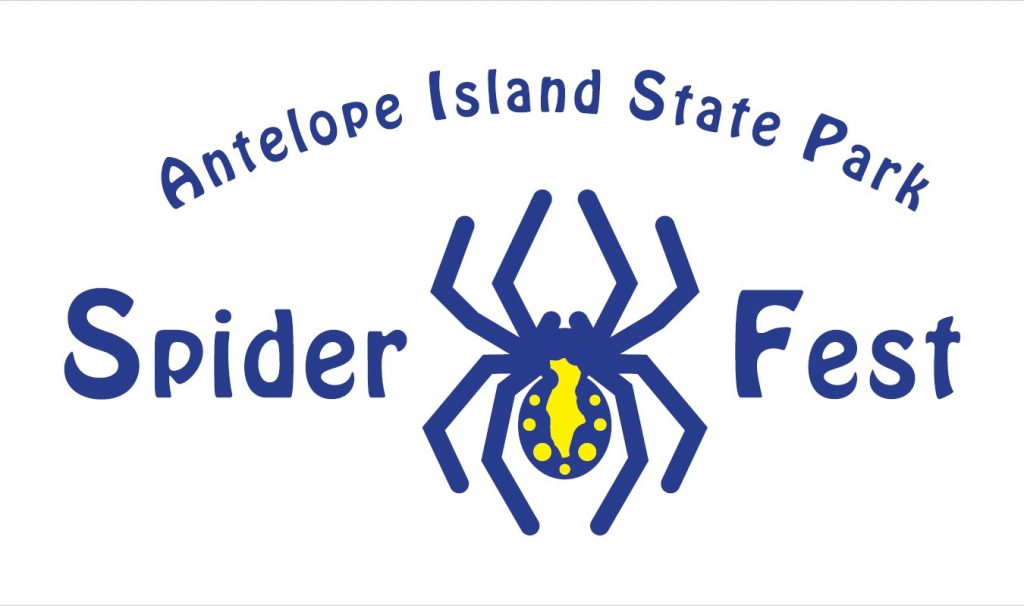 ---
Visitor Center Presentations
All presentations will take place in the visitor center, which is a short drive from the marina.
11:15 pm – Debunking Spider Myths
12:15 pm – Poetry Inspiring Spiders
2:00 pm – Tarantulas!
3:00 pm – BioBlitz Highlights – Who is Living in Utah?
---
At Your Pace Activities and Offerings
Education and information tents, food, and guided walks will all be located within the park marina just after crossing the causeway.
In-Person Guided Spider Walks
In order to ensure a quality experience, all guided walks will be sign up only on the day of the event. You will find the sign up sheet at the main State Park Information Tent. Walks will take place once or twice every hour from 10:00 am to 3:15 pm and last about 45 minutes.
Guided eBike Spider Tours
We have once again teamed up with Antelope eBikes to offer discounted tours in conjunction with Spider Fest. Tours are $50 per person (normally $109), with child bike seats, baby carrier and trailer free with an adult purchase. Tours will follow the 4-mile loop past the visitor center, beach, campgrounds, Buffalo Point and back to the marina, stopping at various places to look at and talk about spiders and other cool park information. Sing up at this link or the day of the event.
Photo Contest
We want to see your pictures! Submit original photography of spiders that you have taken yourself in 2023 by midnight, July 24, 2023 . Please include photo title, state/city where it was taken and name and age of photographer. Submit in jpeg format 1 mb size. Limit one submission per photographer. Qualifying photos will be displayed in Utah State Parks' smugmug virtual gallery. Be sure to check out and follow the Ethical Photography link at the bottom of the page (no trapping/harming spiders). Winners will receive some super awesome fun prizes. Send your submissions to jparsonsbernstein@utah.gov.
*Note: We've made some changes this year. Scientists and educators will be our judges, looking for your candid photos of spiders in their habitat. Photos will be judged on spider content, not pixel quality.
Spider Crafts and Activities
Lots of fun spider crafts and activities from several of our partners will be available at the event in the marina. Share your experience with us by taking a picture of you and your craft and posting them to the Spider Fest Facebook Event page for all to see!
Spider Poetry
Once again, we want to hear your original spider poems! We have loved receiving those over the past several years, and want to continue to add to the collection. Submit your original masterpieces here! We will be posting some of the selected poems throughout the park the week leading up to Spider Fest. We'll also be sharing some of our favorites to our Spider Fest Facebook Event page.
Scavenger Hunts
Check out the various scavenger hunts linked below. Whether you want to come out to Antelope Island, visit one of our partner sites, or stay close to home, you can download the scavenger hunt (or hunts) of choice, and start searching! Share your experience with us by taking a picture of yourself doing the scavenger hunt and post those to our Spider Fest Facebook Event page!
iNaturalist Observation and BioBlitz!
During the week leading up to Spider Fest, you have the opportunity to participate in citizen science by participating in the State-wide Spider Fest BioBlitz and posting your observations to iNaturalist. Last year there were 266 observations made of 53 different spider species during the bioblitz! Let's see if we can top that this year! More information can be found at the following links:
Spider Fest T-Shirt
Once again we will have Spider Fest T-shirts available to purchase for $15. The shirts will be available from the Antelope Island State Park Gift Shop beginning July 24, 2023. We will also have some available on Saturday the 29th at the State Park Info tent. A limited number of shirts from 2022 will also be available. We can accept cash or credit cards.
We Still Want To Hear From You!
Tell us how you participated in Spider Fest this year by filling out this form. We really appreciate the feedback and use it from year to year to try and improve this event.
---
Virtual Presentations
Here are some great presentations, videos and resources from some of our partners. Some of these were recorded specifically for Spider Fest, others are just great information from these organizations. So if you are craving more, check these out!
Return of the Burrowing Spiders
Spider Silk Research at Utah State University
---
Other Educational Resources
Spider Photography: Safely and Ethically
What better way to preserve the memories of the spiders you discover than by taking their pictures? This Ethical Photography guide will help you capture those memories without harming the spiders, their webs or their habitats.
Antelope Island Spider Fest Spider Facts
The Value of Spiders
Orb Weaver Spiders
Cob Web Spiders
Funnel Weaver Spiders
Jumping and Stalking Spiders
Mimicry and Camouflaging Spiders
Spiders – General Info (USU)
Hobo Spiders (USU)
Common Spiders of Antelope Island State Park
Thank you for joining us for the 2023 Antelope Island Spider Fest!