Dark Skies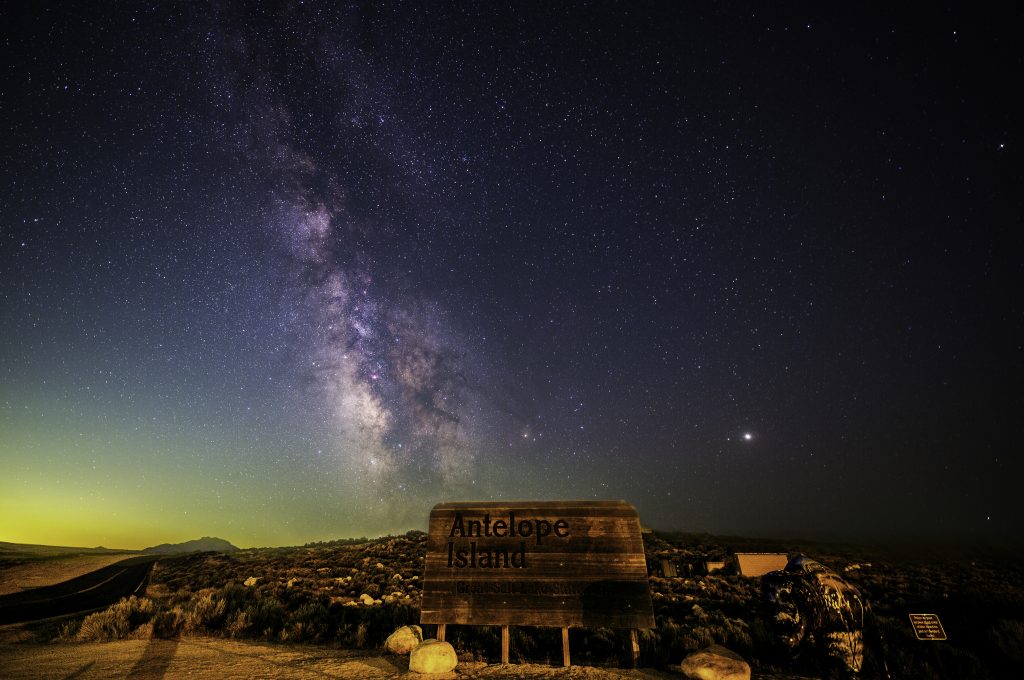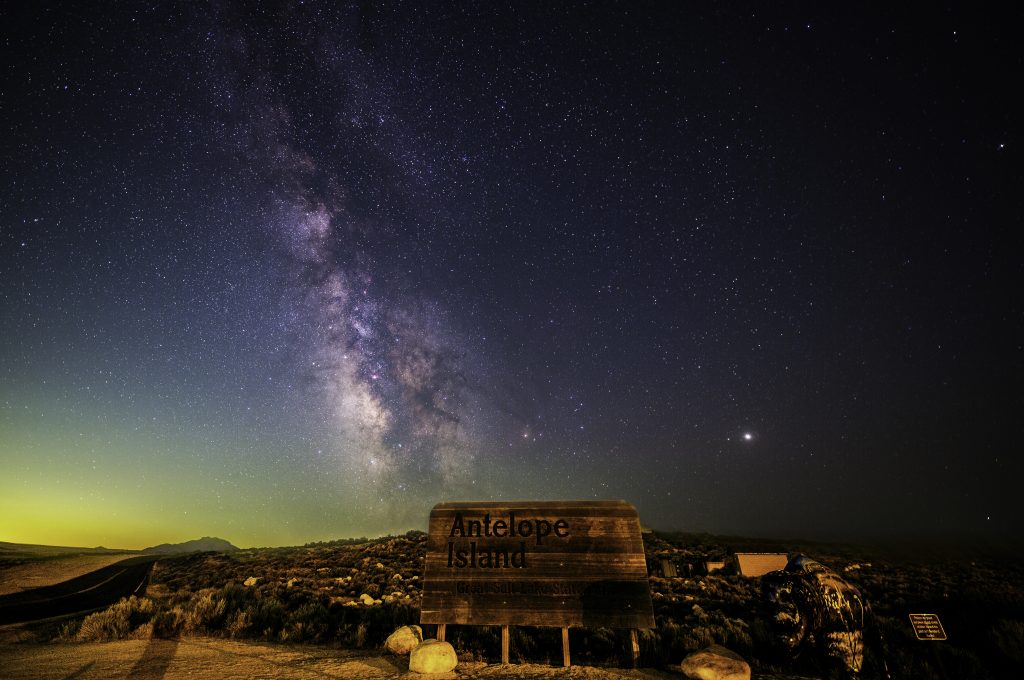 In Spring 2017, Antelope Island State Park was designated an International Dark Sky Park (Bronze Tier) by the International Dark Sky Association (IDA).  Antelope Island is one of a growing number of International Dark Sky Parks in Utah. These places provide an "exceptional quality of starry nights and nocturnal environment."
Why Dark Skies?
When you gaze up at the night sky, can you see the Milky Way? Preserving and protecting natural resources is one of the main missions of Utah State Parks. While not often considered, natural dark skies are one of those valuable resources. Although light pollution has an impact on natural darkness, it is immediately reversible. By taking a few simple steps, we can help to preserve dark skies and breathtaking views of millions of stars now and for the future.
People often travel great distances to see a starry night sky. However, because of Antelope Island's location within the vast Great Salt Lake away from city lights, the Park is an easily accessible location for experiencing dark skies and starry nights. Just one hour north of Salt Lake City, Antelope Island is a great location for star gazing and night sky photography.
Help Protect Dark Skies
It is important to note that dark skies do not equal dark ground. With a few simple changes, we can have both dark skies and safe, effectively lit cities and neighborhoods.
Light only where you need it.
Light only when you need it.
Shield lights and direct them downward.
Use the minimum amount of light necessary.
Select warmer white light bulbs.
Dark Sky Activities
When visiting Antelope Island State Park, visitors can take part in a number of night-time activities:
Star Parties – During the summer months, the Park partners with the Ogden Astronomical Society to offer public star parties, where you can also enjoy night sky photography for those who are interested.
Astronomy Programs – Throughout the year, park staff offers public astronomy programs, night sky photography classes, and other dark sky events, incorporating indoor discussions and outdoor night sky observations. Look for programs under the Events tab.
Star-gazing – Bring your family camping and spend the evening gazing up at the night sky.
How to Enjoy the Night Sky at Antelope Island
The park is open from 6:00 am to 10:00 pm throughout the year. Winter is a great time to enjoy the night sky, and with the sun setting earlier, provides visitors with several hours of viewing before the park closes to day use. During the summer, the best way to enjoy the night sky is either through camping or participating in an organized after hours event.
Camping is available year-round and is a great way to enjoy and explore the night sky. Over 80 campsites offer something for everyone, from primitive backcountry campsites, to partial hookup RV sites. If you plan on camping over a weekend, reservations are strongly recommended. Check our camping page for more information.
If camping isn't your thing, visitors can enjoy the night sky by participating in one of our many organized events sponsored by the park or one of the park's partners. 
Events such as star parties, night sky photography, evening guided hikes, astronomy programs and more are offered year-round and are an excellent way to enjoy and discover the wonders of the night sky. You can find those events by visiting our Events page.
Additional Dark Sky Resources and Publications
Antelope Island: Dark Skies. Starry Nights Brochure
Antelope Island International Dark Sky Park (Davis County) Brochure
Antelope Island State Park (IDA)
International Dark Sky Association News