Field Trip Opportunities
NOTICE:  Guided Bison Working tours are available November 1-3.  Please email Trish Ackley directly to schedule your group tour.  tackley@utah.gov
We can not accommodate unscheduled group tours.
Please fill out the Field Trip Request Form below.  Requests are filled in the order they are received. At this time, staff is unavailable for guided tours and talks. All field trips will need to be self-guided. 
Fill Out The Request Form Here!
Tip: Biting gnats are typically out from mid-April until mid-June. You can call the park for a current update. Watch the Biting gnat clip to see what it is like in May on Antelope Island.
Antelope Island State Park is a large park with multiple areas open for group visits. Below is a list of common field trip locations, with details and information on each of them. Please review this information in order to better plan your trip, including travel time, picnic areas, water, and restroom availability.
Field Trip Locations (click on the map below)
School groups are no longer able to do field trips inside the visitor center. 
Bridger Bay Beach
Buffalo Point
Lady Finger Point
Historic Fielding Garr Ranch
Visitor Center Amphitheater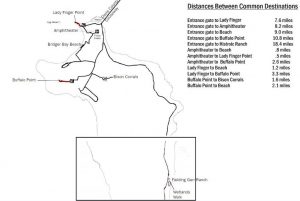 Self Guided Field Trip Options
Bridger Bay Beach: This is the best location to talk to your students about lake ecology, Oolitic sand, plant adaptations, and what lives in the lake. The free Teacher Toolbox is a great way to teach these topics.
Buffalo Point: While hiking one of the most popular trails talk to students about Antelope Island ecology or geology.  Use the Antelope Island ecosystem lesson plan to talk about plants and wildlife.
Lady Finger Point: This location offers lake access, views of Egg Island, and a short hike among 500 million-year-old rocks to talk to students about lake ecology, Oolitic sand, plant adaptations, and what lives in the lake. The free Teacher Toolbox is a great way to teach these topics. Geology and birding are other topics that can also be taught at this location. 
Historic Fielding Garr Ranch: Learn about the early ranching history of Antelope Island through self-guided Building Tours. You can also include a Scavenger Hunt on the tour. 
To experience a freshwater spring ecosystem on Antelope Island go on the Wetland's Walk.
Visitor Center Amphitheater: With sweeping views of Antelope Island and Great Salt Lake, this location offers seating for group discussions on any topic (Availability is limited).
Teacher Toolbox (Beach)
For schools visiting the beach, the park offers a Teacher Toolbox for free checkout. This toolbox contains a variety of lesson plans about Great Salt Lake, with all the necessary supplies to conduct those activities. Lesson plans are geared toward a 4th-grade education level but can be adapted to fit your individual needs.
Fees
The Education Group Rate is $1.00/person (including adults) with advanced reservations.  Student groups must be chaperoned by no less than 1 adult to every 10 students.
Schools arriving without a reservation, or with insufficient chaperones will be charged the regular commercial group rate of $3 per person/ $5 per bus. 
Additional Resources
Great Salt Lake Education Packet
Antelope Island History
Great Salt Lake Institute
Great Salt Lake Ecosystem Program
Utah Geological Survey
Friends of Great Salt Lake Education Resources
For additional information contact antelopeislandfieldtrips@utah.gov