Hailstone Event Center
Park Events        Special Use Permits          Hailstone Event Center         Lake View Center
Host your next event, reception, or meeting at the Hailstone Event Center.
Sweeping views of Jordanelle Reservoir and the Wasatch Mountains, make an ideal backdrop for your wedding, banquet, or retreat.  Check out the virtual tour to see why the Hailstone Event Center is the "natural choice" for your special event.
Capacity: Indoor Events – 220, Indoor/Outdoor Events – 500, Atrium Luncheon Seating – 80, Hall Luncheon Seating – 60.
Fees:  $2,000 per day (no later than 10pm).  $100/hr. after 10 pm, no later than 11 pm.  $1,000 refundable cleaning deposit required. A $500 non-refundable security deposit is required at the time of booking along with the completed rental permit.
If you are interested in renting the Event Center, please download the Jordanelle Event Rental Permit, complete the form and return it to the Hailstone Office with applicable fees. For available dates, please check the calendar below.
Hailstone Event Center Brochure
Hailstone Event Center Amenities
90 Chairs (indoor/outdoor)
12 – 5′ Round Tables
2 – 8′ x 30″ Rectangle Tables with 8′ x 18″  Optional Upper Deck
1 – 8′ x 30″ Rectangle Table with 8′ x 18″
2 – 5′ x 30″ Serpentine Tables
2 – 5′ Half Round Tables
53 Wooden Chairs (inside only)
12 – 6′ x 30″ Rectangle Meeting Room Tables (inside only)
Portrait Easel (full-standing floor model)
2 – Full-Size Propane BBQ Grills
6 – Patio Café Style Table and Chair Sets
Mobile Bar
Mobile Reception Counter
5′ Decorative Steel Arch
Wireless Microphone
Indoor/Outside Sound System
2 – Catering Carts
50″ Flat Screen and DVD Player
42″ Flat Screen and DVD Player
Catering Kitchen with Microwaves (2), Sink, Refrigerator/Freezer and Granite Countertops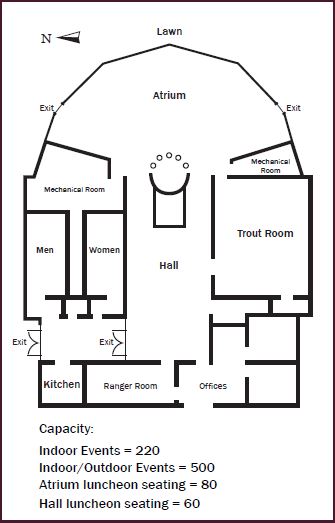 Trout Room
Looking for a professional atmosphere for your next meeting but don't need the entire space of the Event Center? Try the Trout Room. The Trout Room is equipped with a 50″ TV, 53 Wooden Chairs, 12 Six foot Conference Room Tables, Whiteboard Easel, Projection Screen, and allows seating for 45.
Fees: Available Monday – Thursday Only,  Full-Day (8 hours) $500 or Half-Day $300 (4 hours).