Facilities
Jordanelle State Park has three main access points to the park, each with different facilities providing various experiences.  Maps are available on our website under Publications.  Scroll to the bottom for information during the winter season. Please check our Current Conditions page for information on availability and closures. 
Hailstone offers a more developed side of Jordanelle. 
Dogs are allowed on a leash in all areas of Hailstone including on the docks and in the water.  They are not allowed in public buildings, or restrooms. 
Boating Facilities:
Main Ramp – 8 lanes, lease docks, courtesy docks, fish cleaning station, flush restrooms, C-store, pro-shop, rentals, mooring buoys, dry storage, indoor dry storage, live video feed, on the water fuel (ethanol-free), and on the water-sewer pump out.
Personal Watercraft Ramp (PWC) – smaller ramp for PWCs (like jet skis and wave runners) and non-motorized launching (sailboats, kayaks, and paddleboards).  A courtesy dock is also available from May through October.  During the summer months, motorized boats are not allowed to launch from this ramp.  There is also storage for non-motorized vessels.
Lease Docks – The Hailstone Marina is equipped with an 80 slip private boat dock. Slips may be rented every 2 years. Boat slips are categorized by size and availability of electricity. Due to the damage sustained in 2020, the LEASE/RENTAL docks will not be available for the 2022 season.

A Slips are 11′ wide and can accommodate boats up to 22′ in length.
B Slips are 11′ wide and can accommodate boats 22'1″ – 26′ in length.
C Slips are 11′ wide and can accommodate boats 22'1″ – 26′ in length and have electricity.
D Slips are 12′ wide and can accommodate boats 26'1″ – 32′ in length and have electricity.
For more information please read the 2020 Boat Slip Acquisition Procedures.
Transient Slips – 8 of the slips on the Lease Docks are Transient Slips that may be reserved for up to 14 days at a time for $40/night. Reservations may be made 4 months prior to arrival by clicking here. Due to the damage sustained in 2020, the LEASE/RENTAL docks will not be available for the 2022 season.
Camping Facilities:
RV Campground:  Hailstone offers 103 RV campsites equipped with partial hookups (power & water), fire pits with BBQ grills, and picnic tables.   All restrooms have hot showers and flush toilets.   Murdock Camp Services also has a laundry facility.  A dump station is located on the west side of the campground.  A playground is located in the Lower Fisher loop by Murdock Camp Services.  All of our sites come with amazing views of the reservoir and sell out fast so plan ahead!
Tent Campground: McHenry campground is made up of four loops designed specifically for tents. Bathrooms with showers are available along with water spigots placed within each loop.  A playground is located in the McHenry D loop near the restroom. RVs and Trailers are NOT allowed in any of the McHenry Loops and will be asked to leave.
Hike-in Campground: Keetley campground is a hike-in campground for tent campers who want more of a secluded experience away from other campers. Some are available for reservation, but most are walk-in only (available on a first-come-first-serve basis).  Showers are available in the main campground at Murdock Camp Services.
Group Camping:  Keetley Group Campsite can accommodate up to 50 people.  There are four tent pads on the north side of the pavilion (46'x10′, 25'x9′, 18'x8′, and 24'x8′).  There is a large pavilion with nine picnic tables, a parking lot, four RV hookup sites (water & power), a nearby dumpster, a dumpsite, and two restrooms with showers.  A $100 refundable cleaning/damage deposit is required upon check-in.
Cabins: Jordanelle now offers five cabins to choose from: Mahogany Ridge (sleeps 8), Sage Hen Hollow (sleeps 8), Elkhorn (sleeps 6), Deer Ridge (sleeps 6), and Kokanee Run (sleeps 6).  Deer Ridge and Kokanee are ADA Accessible. Each cabin is equipped with a refrigerator, microwave, air conditioning/heating unit, along with a table and chairs. No Smoking allowed. Three of our cabins now allow dogs for a non-refundable fee of $20 per pet per stay. A maximum of two pets are allowed per site. For more information please check out the alerts on each of the cabin reservation pages. A refundable $100 cleaning/damage deposit is required at check-in for each cabin. Call for current prices.
Cottage: Coming soon in 2022, Jordanelle is adding the Blue Goose Inn Cottage for rent. The cottage offers 1 queen bed, one sofa-sleeper, and a loft that sleeps 2 children. The cottage has a full bathroom with shower, a kitchenette and dining area for your stay. Price has not yet been determined and more information to come! Stay tuned for pictures!
Other Day Use Facilities:
Cabanas:  Hailstone has 36 reservable day-use cabanas.  Each cabana comes with one covered picnic table, a pedestal grill, and one (1) reserved parking spot.  Dogs are allowed on the beaches, but must be on a six foot leash and cleaned up after at all times.
Group Pavilions:  Hailstone offers three(3) day-use pavilions that can accommodate up to 75 guests.  The Sand Pavilion is located directly on the public beach, near the volleyball court. Half the pavilion has a concrete floor, the other half is sand.  The site has a cinder block BBQ pit in addition to a pedestal grill.  The Sand Pavilion has nine large picnic tables, five reserved parking stalls. and is ADA-accessible. No dogs are allowed at the Sand Pavilion.  The Beach Pavilion is very popular and offers public beach access, playground access, 9 picnic tables, a fire pit, a large pedestal grill, lights, and five reserved parking stalls.  There is no motorized boat access to this site. The Cove Pavilion has 9 picnic tables, a large pedestal grill, and five reserved parking stalls.  There is no motorized boat access to this site. A $100 refundable cleaning/damage deposit is required upon arrival.  The pavilion fee covers the cost of the pavilion and the park entrance of 1 vehicle. Additional vehicles are subject to park entrance fees or must display an annual pass.  Pavilions may be reserved up to 11 months in advance.
Fish Cleaning Station:  The fish cleaning station is located west of the main ramp just outside the restrooms.
Geocache Adventure:  Hailstone offers a Solar System Geocache that begins near the park office.  Pick up a brochure and start your adventure!  Once completed, a certificate can be turned in for extra prizes.
Event Center: The Hailstone Event Center is a natural and affordable option for your next wedding or special event.  The event center can accommodate indoor/outdoor events as large as 500 people.  Please go to the "Hailstone Event Center" tab under "Events" for more information and brochures.
Rock Cliff offers a more natural side of Jordanelle
Pets are allowed at Rock Cliff, as long as they are leashed and cleaned up after.  As this is the inlet from the Upper Provo, artificial lures ONLY are allowed on the river.  
Boating Facilities:
Rock Cliff is equipped with a single-lane boat ramp that can be used in the early summer when the water level is at its highest. The boat ramp is only for vessels 16′ and under, and for other small non-motorized use such as kayaks, canoes, and Stand-Up Paddle boarding. There are no docks at this facility. The water off of the launch ramp is known for its fishing due to the ecosystem under the water that was created when the plants and trees were buried when the reservoir filled.                                                                                                                              
Nature Center:
The Rock Cliff Nature Center is a one-of-a-kind experience that teaches about the wildlife, plants, animals, and ecosystem of Jordanelle. Please call the Hailstone office to find out the current hours of operation.
Trails:
Boardwalk: Feel like taking an easy nature walk? Rock Cliff is equipped with elevated boardwalks and well-maintained trails that guide visitors through the upland sage and wetland areas, leading to a breathtaking view of the Provo River as it enters Jordanelle Reservoir.
Perimeter Trail: If you are looking for more of a hike, bike ride, or horseback ride, then the perimeter trail is for you. The trail totals 22 miles from Rock Cliff to Hailstone. The boat ramp area is also a trailhead for Jordanelle's perimeter trail that takes you to all three areas of the park. This is a non-motorized trail. E-bikes are welcome.
Three Rocks Trail: Three Rocks Trail is a .7 mile round trip hike with a 150-foot elevation change and offers some great views of the scenery that Rock Cliff has to offer.
Day Use Facilities:
Fish Cleaning Station:  There is a fish cleaning station near the vehicle bridge on the way to the campground.
Geocaching: Rock Cliff is also the starting coordinates to two Geocaches: The Ribbon of Life and Memorial Point.
North Group Pavilion: Rock Cliff has one group pavilion that is available by reservations only. It is equipped with 9 picnic tables and a large pedestal BBQ grill and a water spigot nearby. A $100 refundable cleaning/damage deposit is required upon check-in.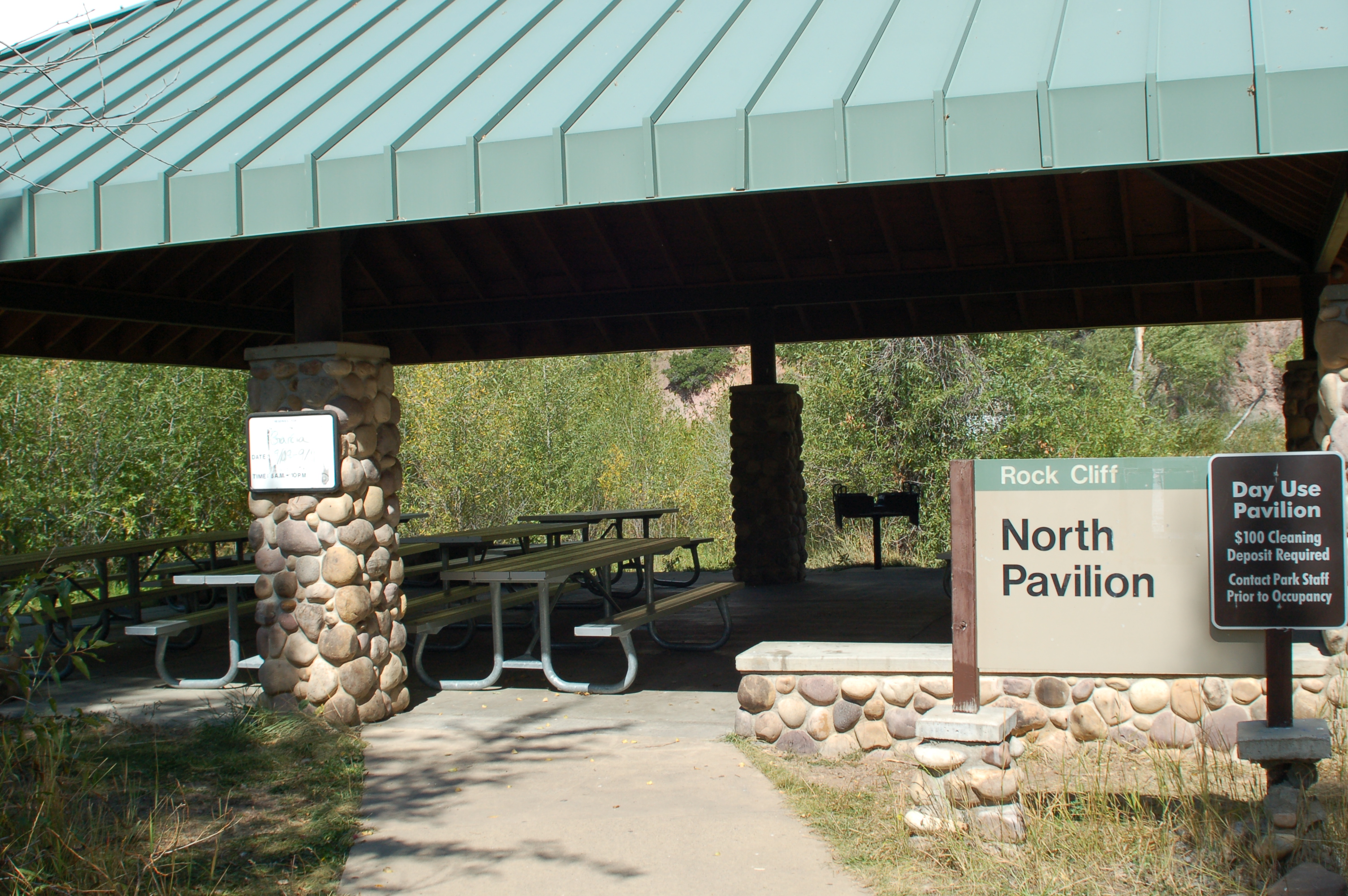 Trailhead to the perimeter trail and access to excellent fishing
Trail Head:
The Ross Creek Trail Head allows access to the Jordanelle Perimeter Trail which is a non-motorized trail that travels from Crandall Point near Hailstone, to Ross Creek and ends at Rock Cliff. The trailhead also allows anglers to access the north arm of the reservoir which is known for its bass fishing. The trailhead is equipped with hitching posts, CXT pit toilets, and an information kiosk.  At the Ross Creek Trailhead, there are 3 miles of loop trails to enjoy in addition to the Perimeter Trail.

Wada Way and Keetley loop trails at Ross Creek:  Wada Way is a 1.85-mile loop and Keetley is a 1.69-mile loop.  These are great trails for biking or hiking.
Non-Motorized Boat Ramp/Trailhead:
The new trailhead and non-motorized boat ramp allow non-motorized users such as kayaks, canoes, and paddleboarders access to the reservoir away from the busy motorized traffic of the Hailstone ramp. This will also assist anglers with an area to park that is considerably closer to the water and will increase the visitation to the area. The new ramp has a large parking lot, hitching posts, and a CXT restroom for convenience.
****Winter at Jordanelle****
Winter is a beautiful time in the park.  Although many of the facilities are unavailable during these months, Jordanelle still has a lot to offer.
Boating:  The main and PWC boat ramps at Hailstone are plowed during the winter months until the ice forms on the reservoir.  There is a heated restroom at the top of the main ramp and at the PWC ramp.  A seasonal wedge dock is in place at both ramps until ice forms.
Fishing:  All of the day-use access park roads are plowed during the winter months.  Once the reservoir freezes, anglers enjoy ice fishing.  OHV's are not permitted in the park with one exception; anglers may use OHV's from ramps to access the ice only.   All fish cleaning stations are shut down for the winter.
Snow Shoe Rentals:  Snowshoes are available to rent at the park office.   There are a variety of sizes ranging from child to adult.
Camping:

 Camping is not allowed in the winter.

Unfortunately, we have had too many issues with dry campers in the winter and we have been forced to close to all camping.
General Day Use:  Guests are welcome to enjoy the park by hiking trails, snowshoeing, wildlife viewing, cross-country skiing, tubing, building snow people, taking photos, walking, etc.  Due to the elevation of the park, the air is free from inversions/settling pollution.