3D Archery Range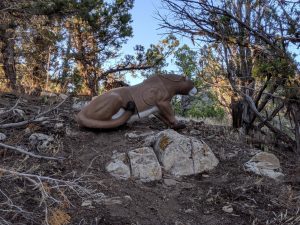 Closed for the season.
We have a new mountain lion, a standing bear, coyotes, deer, and a turkey. Come check it out!
Our 3-D archery range is located along the Lakeview Trail. Spread out along 3/4 of a mile are 9 archery stations with one or two 3-D archery targets per station and one practice station to make sure that your aim is perfect! The life size targets are at a variety distances and difficulties, perfect for the whole family.
Cost to use the range is free with $15 park entrance fee, camping fee, or an annual pass.
You need to provide your own bow and arrows to use the course.
The range is open from April – October.
How To Get There:
Once you pass the entrance station, drive 2.2 miles and park in the dirt parking lot on the west side of the road with the sign that says Lakeview Trail. Cross the street and follow the Lakeview Trail 150 yards to the practice station. From there, 9 more stations are spaced out along the trail as you walk for the next 3/4 of a mile!