Rentals
Watercraft Rentals
The park rents canoes, kayaks, pedal boats and paddleboards with paddles and PFD's for an enjoyable and safe day on the water.
*The last day for rentals at Red Fleet will be September 7th, 2020. We appreciate all of the support of our rental business this past summer and look forward to serving you again in Spring.
Red Fleet Reservoir has been considered a mini Lake Powell and is a great place to explore by canoe, kayak, pedal boat or paddle-board.
The watercraft are not on reservations but can be rented at the parks entrance gate from *May – September.
---
Utah Camping Company
Why waste your entire trip preparing and setting up camp? Let Utah Camping Company do the packing, hauling, and pitching.
From trailer and canvas tent campsite delivery to camping gear packages and individual gear rentals, we've crafted experiences that let you enjoy all the best things about camping, effortlessly. When you rent with UCC, you get to spend your time with family and friends in the places you love knowing you have everything you need.
Check Out Utah Camping Company!
---
Arrive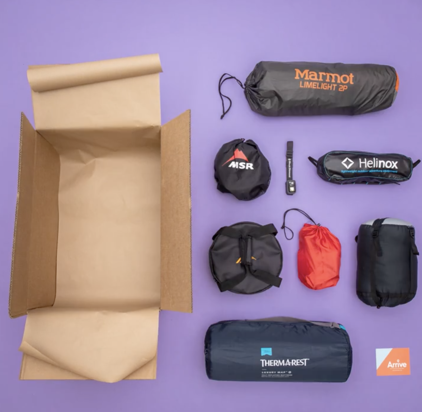 Rent Gear with Arrive Outdoors. Plan ahead for your trip by renting the gear you'll need from Arrive Outdoors! Arrive Outdoors supports camping, backpacking, skiing, snowboarding, snowshoeing trips, and more.
Renting saves you up to 90% compared to buying new, without having to worry about storing or maintaining your gear when you leave the outdoors.
Reserve for free. Receive anywhere. Return for free.