Events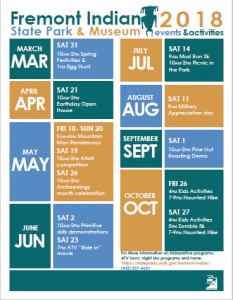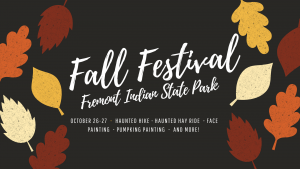 October 26&27 Fall Festival and Haunted Hike Come to the park for a spooky night of games, pumpkin painting, a haunted hay ride and more fun!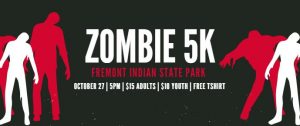 October 27 Zombie Run See you if you can outrun the undead in this daring 5k race! Run this fun course through our state park as you try to dodge Zombies hiding in the bushes. Each participant will be given two flags, with the goal of keeping them out of reach of lurking zombies. The successful participant will make it to the end of the race with a flag remaining. Participants can opt out of zombie competition. Register by October 15 to be guaranteed a Tshirt in your size. Packet pick-up will be Friday, October 26 from 5-8pm and day of Registration begins at 4:00 pm.
Download Flyer Here
Experience the numerous points of interest within our park.  Explore the canyon we are located in to find Fremont Indian petrogylphs, pictographs, and pictoglyphs. Take a ride on an ATV through our park to connect to the longest ATV trail in the world. Descend into a reconstructed pithouse to imagine the lives' of the Fremont Indians 1000 years ago.  Come into our museum during open hours, 9:00 am – 6:00 pm,  to discover our large collection of Fremont Indian artifacts.