Events
Experience the numerous points of interest within our park. Explore the canyon we are located in to find Fremont Indian petroglyphs, pictographs, and pictoglyphs. Take a ride on an ATV through our park to connect to the longest ATV trail in the world. Descend into a reconstructed pithouse to imagine the lives of the Fremont Indians 1000 years ago. Come into our museum during open hours Monday to Saturday, 9:00 am – 5:00 pm, to discover our large collection of Fremont Indian artifacts.
---
---
*For all park events, day-use fees apply ($10 per vehicle, up to 8 individuals in a vehicle). Park campers are welcome as included in your stay with us. Thank you!
**All dates and events are subject to change.
We still provide a 2023 Activities Calendar, but something different we are trying this year, will be a monthly Program Calendar as well. These will be released/posted on the 15th of every month prior (i.e. April 15th – programs for May are announced) to show what additional programs we will be offering for the coming month. Programs will include geology talks, archaeology and artifact Q & A, day hikes, our Fremont First Fridays, guest speakers and demonstrations, and SO MUCH MORE!
MAY: Utah Archaeology & Preservation Month!
The official World Atlatl Association competition throw and demonstration have been moved to a future date due to unforeseen circumstances. HOWEVER, please join us at our museum for a small, park-level atlatl competition put on by our local Paiute tribe members. They will instruct you on the atlatl and provide a demo. Afterwards there is an atlatl course where you can keep score and win prizes! All ages, men and women are welcome! The competition starts promptly at 10am and runs to 12pm.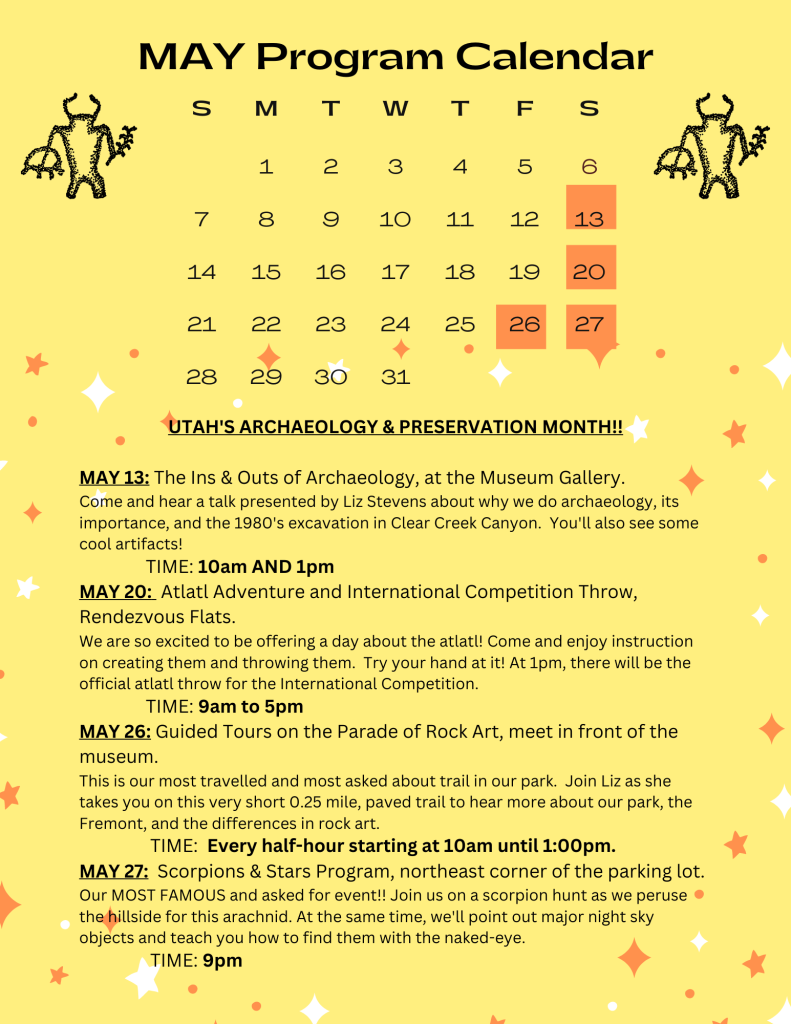 JUNE: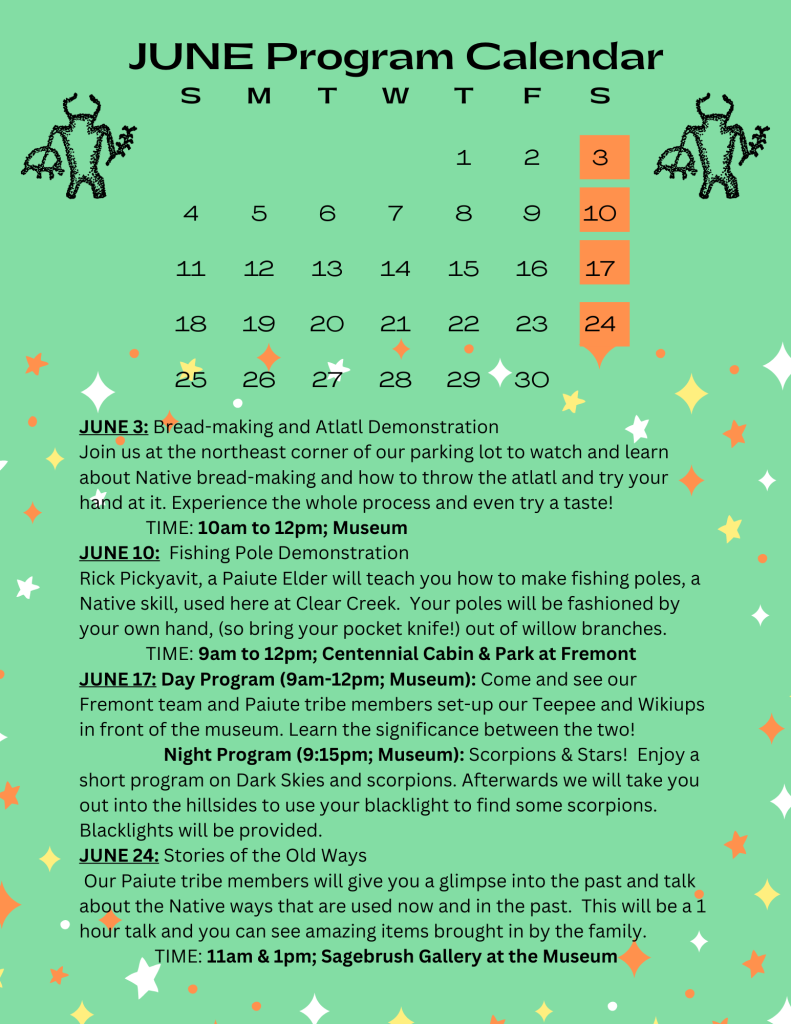 JULY:
July 15: Movie in the Park, Centennial Cabin, 9:00pm
July 22: Scorpions & Stars Program, Museum Parking Lot, 9:15pm
AUGUST:
August 5: Scorpions & Stars Program, Museum Parking Lot, 9:00 pm (Moon Specific Program)
August 12: Military Appreciation Day Flag Ceremony, 10am
SEPTEMBER:
Sept. 2: Scorpions & Stars Program, Museum Parking Lot, 8:30pm
Sept. 9: Annual Pine Nut Roast, Museum Parking Lot, 10am to 2pm
Sept. 16: Clear Creek Canyon Car Show & Cruise, 9am to 2pm (Cruise is after 2pm)
OCTOBER:
Oct. 7: Zombie Run 5K, Museum Parking Lot, 5pm AND 7pm
Oct. 14: Annular Solar Eclipse Watch Party, Museum Parking Lot, 9:00am to 10:45am (full eclipse at 10:28am)
Oct. 20 and 21: Annual Fall Festival & Hay Ride, 3pm to 8pm
Please see our Facebook and Instagram for any details or changes. Also keep an eye out for our Monthly Program Calendar to be posted on the 15th of every month!