Events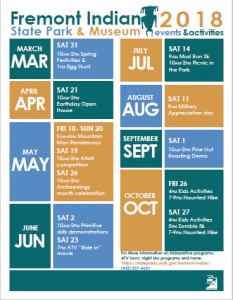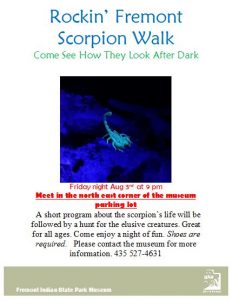 August 5-Scorpion Hunt 8:45 pm Museum parking lot. Join us as we learn about these fascinating creatures native to Utah and we search for them with Black light in our own backyard!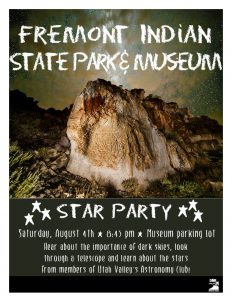 August 4-Star Party 8:45 pm museum parking lot Take a look through a telescope and enjoy our breathtaking views of the night sky. Members of Utah Valley Astronomy Club will be down with telescopes to share their knowledge with us!
August 11- Military Appreciation Day Free day for military, families, and veterans. Celebrate with us with a breakfast at 8am, followed be a flag raising ceremony by the local American Legion.
*date change* September 8- Pine Nut Roasting Demo Learn how members of the Paiute Tribe collect, process and eat pine nuts. Watch as the demonstrate over an open fire how to roast and open them and then try  it yourself!
Thursday, September 20th- Paint Night 7pm-9pm $15 Learn how to paint a scene from right here in the park from local artist Rosalie Gunnel, whose work is currently showing in our gallery.
October 26&27 Fall Festival and Haunted Hike Come to the park for a spooky night of games, pumpkin painting, a haunted hay ride and more fun!
October 27 Zombie Run See you if you can outrun the undead in this daring 5k race!
Experience the numerous points of interest within our park.  Explore the canyon we are located in to find Fremont Indian petrogylphs, pictographs, and pictoglyphs. Take a ride on an ATV through our park to connect to the longest ATV trail in the world. Descend into a reconstructed pithouse to imagine the lives' of the Fremont Indians 1000 years ago.  Come into our museum during open hours, 9:00 am – 6:00 pm,  to discover our large collection of Fremont Indian artifacts.