Military Appreciation Day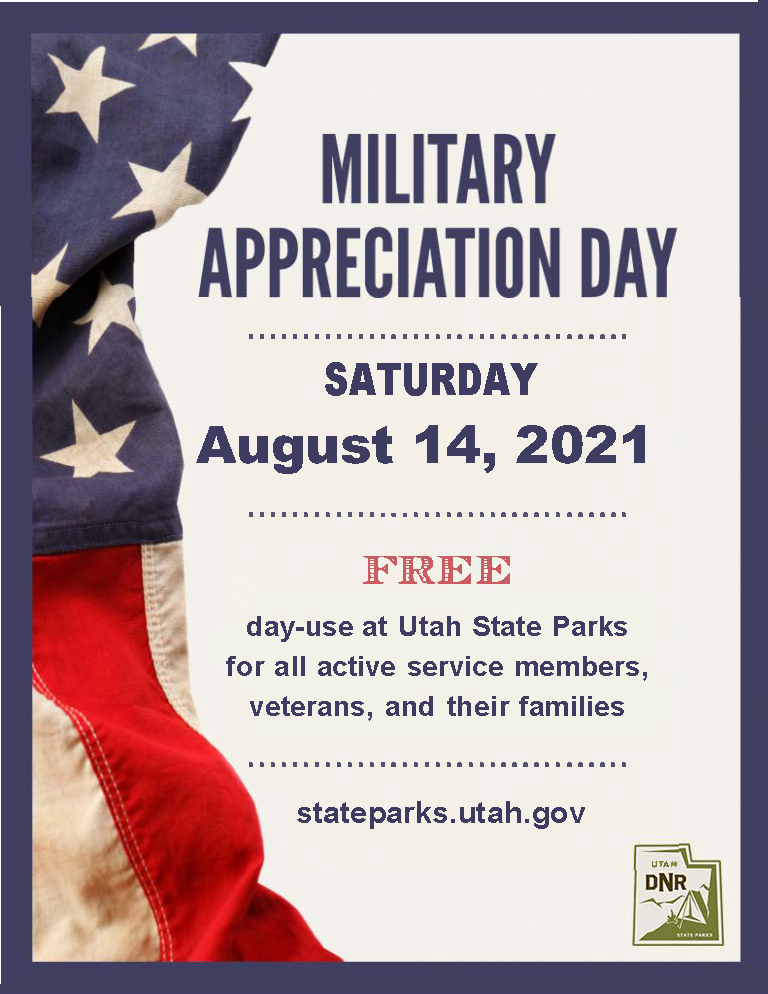 The Utah Division of Parks and Recreation is excited to announce our annual Military Appreciation Day set for Saturday, August 14, 2021.
As part of the celebration, all Utah state parks* will offer free day-use entrance for active military, veterans, and their families in the same vehicle.
This celebration helps us honor the sacrifices the members of the U.S. military make, Utah State Parks Director Jeff Rasmussen said.
"We have set this day aside to honor those currently serving in the military as well as those who have served in the past," Rasmussen said. "Their sacrifices have given us the freedoms and safety that we all enjoy day in and day out. We think it's important to recognize their service and dedication."
Visiting a park in your local community is always a great choice, he said, but experiencing a new park can bring a whole new element of fun. With all the different activities and so many different state parks across Utah, there are multiple opportunities to find your own adventure.
*All standard fees will apply at This Is The Place Heritage Park.
---
Additional Activities
Along with free day-use entrance to all state parks*, some parks are also offering events and programs on Military Appreciation Day. Check back often to see updates on additional activities at a park near you.
Camp Floyd State Park Museum
Stroll through our American military displays honoring those who have served from the Revolutionary War to the present with costumed interpreters and with vehicles from the Utah National Guard representing the present military. At 2:00 PM as part of this amazing day bring a chair and relax while you listen to the sounds of the Benson Sisters, who sing songs from the 1940s and World War Two era. Food will be available for purchase. Admission is $5 per person or $15 per family (immediate family only). Active military and Veterans and their families in the same vehicle are free. For more information please call (801) 768-8932 or email campfloyd@utah.gov.
Fremont Indian State Park and Museum
8 a.m. Breakfast for military members and their family
9 a.m. Flag ceremony and guest speaker
Goblin Valley State Park
All veterans and active military receive 20% off all merchandise in Goblin Valley State Park gift shop.
Great Salt Lake State Park
Exclusive Excursions, our concessionaire for boat rides and paddleboard rentals, will be offering a 10% discount for active soldiers and veterans as well. Must call 435-640-2907 to book a tour or rental with a military discount.
Green River State Golf Course
Free 9 hole round of golf (carts are an additional fee) for active military and veterans.
Palisade State Golf Course
Free golf cart rental
Quail Creek State Park
DIG Paddlesports offering 50% off any one rental item.
Free entry into MadMoose drawing of a free OHV tour giveaway
Rockport State Park
Free entrance to Rockports Dam Jam event!