Employment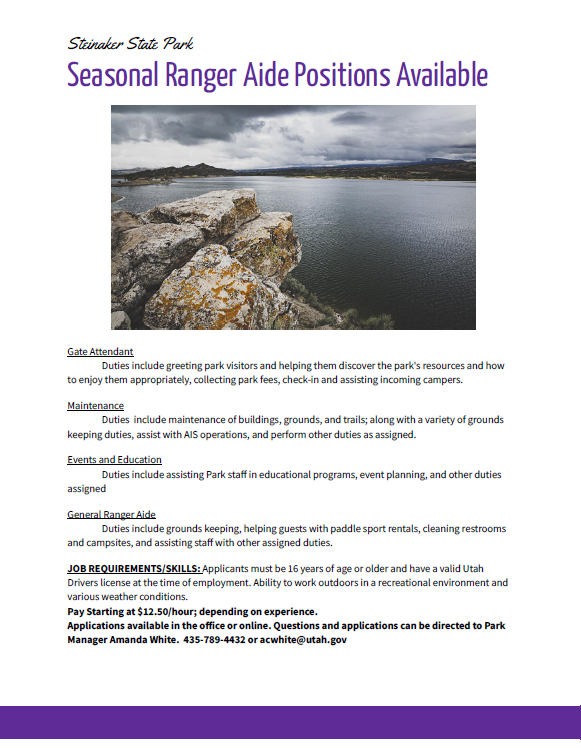 We need you! Individuals, couples, and families with children of all ages, as well as service groups and clubs are needed for worthwhile and fun projects. Whether you can spend a few minutes, hours, days, or months, a volunteer assignment can be tailored to meet your interests.
Adopt a Park:
Areas Available
Adopt our nature walkway – keep the litter picked up and keep the weeds cleaned along the walkway and in the parking lot.
Adopt one or both of our vehicle pullouts along Hwy 191 – keep the litter picked up in the parking areas and down by the reservoir.
Camp Host Position: 1 Spot Available 
Individual, Couple, or Family
work-camp option available
Full-hook up site available
Duties include: Cleaning campground restrooms, assisting guests after hours with locating their site and selling firewood and ice, cleaning camp sites after checkout, assisting office staff with reservations, and other tasks assigned by park management.
Email park manager at acwhite@utah.gov for more information
CURRENT SEASONAL POSITIONS:
                                                                 The Position of
                                                             PARK RANGER AIDE 
The Utah Department of Natural Resources, Division of Parks and Recreation has seasonal positions available (no benefits) located at Steinaker and Red Fleet State Parks in Vernal, Utah. This appointment will last from approximately May to September , on a yearly basis, with the possibility of extension.  Housing is not provided.
EXAMPLES OF DUTIES:
Assist in the operation of both Steinaker and Red Fleet State Parks. Duties will involve: greeting park visitors and help them discover the park's resources and how to enjoy them appropriately; staff entrance stations and collect park fees; check-in and assist incoming campers and rentals of watercraft. Duties also include maintenance of buildings, grounds, and trails; along with a variety of grounds keeping duties, assist with AIS operations, and perform other duties as assigned.
JOB REQUIREMENTS/SKILLS:
Applicant must be 16 years of age or older and have a valid Utah Drivers license at the time of employment. Ability to work outdoors in a recreational environment.
Preference may be given to applicants with cash handling, customer service or equipment operation experience, and education in a natural resource-related field.
OTHER REQUIREMENTS:
Applicants must be willing to work in an outdoor setting and work weekends and holidays. Applicants must successfully pass a criminal history background check upon hire.
 Applications may be downloaded at www.dnr.utah.gov  or obtained by mail. For more information contact Amanda White by calling (435) 789-4432 or by e-mail at the following: acwhite@utah.gov
Applications available in the office or by following this link https://naturalresources.utah.gov/wp-content/uploads/DNR-Seasonal-Job-Application-12-13-16.pdf
DNR complies with the ADA. Hearing-impaired employees who wish further information regarding this announcement may call the DNR TTY number at (801) 538-7458. Disabled employees who desire reasonable accommodation in the interview process should contact the DNR Human Resource Office at (801) 538-7210.