Rentals
The Beach At Sand Hollow
Whether you're visiting Sand Hollow Reservoir for the entire week or just the day, you'll be sure to enjoy yourself with some of the greatest boating and ATV'ing in the state.
For all of your recreational needs, the Beach At Sand Hollow (BASH) has your back. Located at the south end of the park, the store has ATV's, UTV's, kayaks, paddle boards and more for those of all ages, shapes and sizes!
What could be better than satisfying your sweet tooth after a long day of playtime in the sun? The BASH has got you covered with great food, ice cream, drinks and even a place to rest while your enjoy your cool treat out of the sun.
Coming in a group for a family reunion or coroporate event? Give BASH a call and ask about their special group pricing on all items.
---
Utah Camping Company
Why waste your entire trip preparing and setting up camp? Let Utah Camping Company do the packing, hauling, and pitching.
From trailer and canvas tent campsite delivery to camping gear packages and individual gear rentals, we've crafted experiences that let you enjoy all the best things about camping, effortlessly.
When you rent with UCC, you get to spend your time with family and friends in the places you love knowing you have everything you need.
Check Out Utah Camping Company!
---
The Dive Shack at Sand Hollow
Where you come to learn to dive.
The Dive Shack at Sand Hollow is the Dixie Divers Mobile Store. Located at Sand Hollow Reservoir during the summer months for all scuba and snorkeling needs.
The Shack is open from May through October.
Small class size equals individual attention. Qualified, caring and professional staff makes sure that you learn all the required skills to dive around the world. Dixie Divers is a full-service Dive Center offering classes, gear, rentals and Dive travel. They have three active instructors that can meet your schedule and get you certified.
Did you know there is an old bus, skeleton, and even a plane, lurking inside the waters of Sand Hollow? There is only one way to see it for yourself. Come experience the park like you never have before!
---
Arrive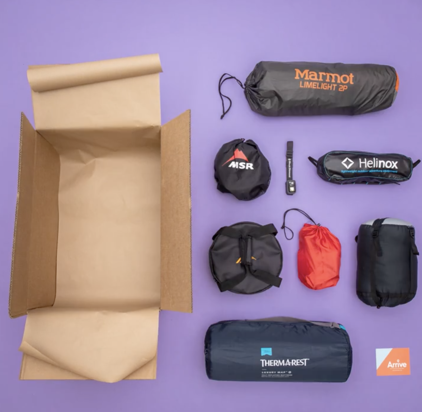 Rent Gear with Arrive Outdoors. Plan ahead for your trip by renting the gear you'll need from Arrive Outdoors! Arrive Outdoors supports camping, backpacking, skiing, snowboarding, snowshoeing trips, and more.
Renting saves you up to 90% compared to buying new, without having to worry about storing or maintaining your gear when you leave the outdoors.
Reserve for free. Receive anywhere. Return for free.