Rentals & Food
DIG Paddlesports
Quail Creek State Park is a great place to get away from the stresses of everyday life for some outdoor fun. While you're here, be sure to stop by DIG Paddlesports for some extra adventure.
Here at DIG, you can rent a kayak, stand-up paddleboard, water carpet, PWCs, and much much more. The rental shop is located at the north end of the parking lot inside the park, just look for the paddleboards. We have snacks, beverages and even sunscreen for sale. Forget your shade tent? How about the ice? DIG will have you covered for all your lake needs. Stop by the shop to see what we have for you!
There are instructors available to help answer your questions regarding rentals, or even just to show you some tips on technique.
Interested in trying something new? Paddleboard yoga could be the sport you've been waiting for!
Call beforehand to check for instructor availability, or to reserve your equipment before the slots fill up. There are hourly, half-day, and full-day options available. Call or text DIG at: 435.467-9988.
Reserve Your Spot With DIG Paddlesports
---
Utah Camping Company
Why waste your entire trip preparing and setting up camp? Let Utah Camping Company do the packing, hauling, and pitching.
From trailer and canvas tent campsite delivery to camping gear packages and individual gear rentals, we've crafted experiences that let you enjoy all the best things about camping, effortlessly. When you rent with UCC, you get to spend your time with family and friends in the places you love knowing you have everything you need.
Check Out Utah Camping Company!
---
Arrive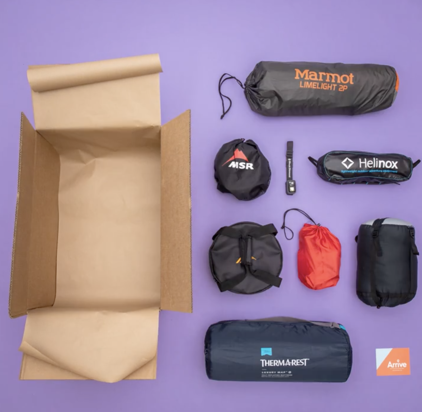 Rent Gear with Arrive Outdoors. Plan ahead for your trip by renting the gear you'll need from Arrive Outdoors! Arrive Outdoors supports camping, backpacking, skiing, snowboarding, snowshoeing trips, and more.
Renting saves you up to 90% compared to buying new, without having to worry about storing or maintaining your gear when you leave the outdoors.
Reserve for free. Receive anywhere. Return for free.