Events – April 13th/14th 2019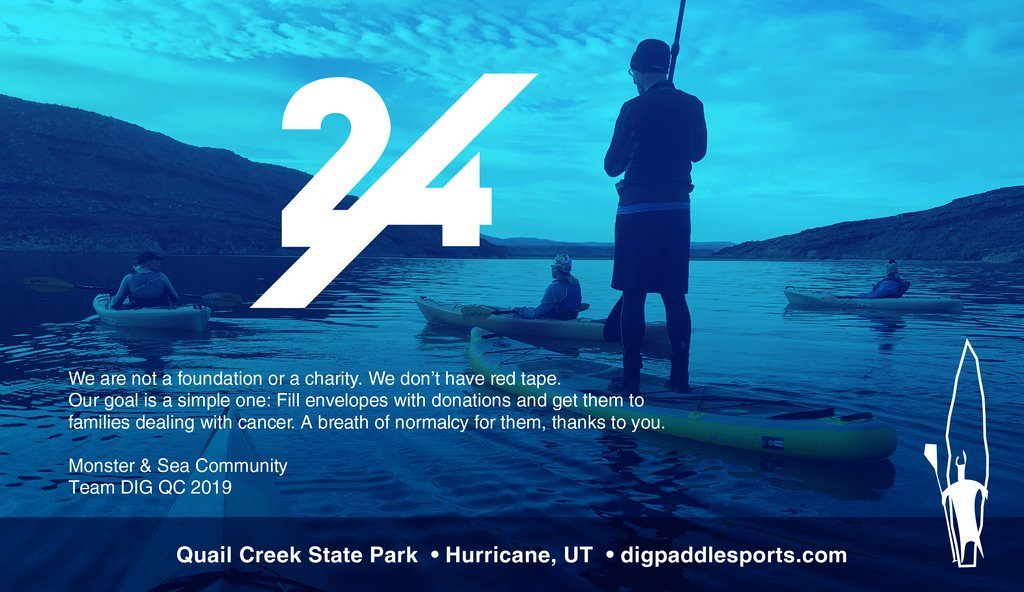 Once again, DIG Paddle Sports is joining a national event, hosted in over 26 cities and growing every year! Monster & Sea is a benefit water sports brand that contributes to families and individuals in need. Once a year, for 24 hours, we join their cause!
The goal of this event is to raise money for victims of cancer and families struggling with medical bills and care. This year, Team Dig 01 has selected a Utah family that has a son who is battling like a champ to overcome leukemia. We want to respect the family's privacy, but are happy to share details over a phone call or direct email, and you can see what they have put out over social media. They could use a hand up, for sure.
DIG Paddle Sports needs 6-person teams that are willing to take 1 hour shifts, two paddlers per shift, for 24 hours. Friends, family, visitors are all welcome to come out and pitch in where and when they can.
No admission will be charged for event participants or volunteers.
If you want to paddle and need gear, DIG Paddle Sports will give 50% off regular rates for you and your friends, or you may borrow another paddler's gear, if available.
To contribute to our local fund, click here:
https://www.gofundme.com/24hr-relay-paddle-monstersea-digpaddlesports-utah&rcid=r01-155010641915-dfbc2a0a6e7d4c22&pc=ot_co_campmgmt_w
Some Q & A:
Q: Is this a race?
A: No. It is a group of friends getting together to inspire their community to help families dealing with cancer. 1 in 3 people will deal with cancer in their lifetime. We will track and total our miles paddled over the 24-hour period.

Q: Do I need to know someone to join a team?
A: If you paddle or want to paddle, you are in!
Reach out at 24@digpaddlesports.com so we can assign you to a team of instant friends.
Q: Why 24 hours?
A: Because it is difficult. When you are dealing with cancer it is a 24/7 beast. It takes personal focus and being surrounded by friends and family to battle and fight. Paddling doesn't mimic that battle, but it is symbolic of that group effort and support structure.
Q: Can other people paddle with us?
A: Absolutely. Any and all are welcome.
Q: Can we have more than one team?
A: YES!
Q: Is it restricted to Stand Up Paddling?
A: Not at all. Kayaks, canoes, OCs, prone boards, sculls or sweepers. If it's human-powered, it's good!
Q: How does the relay work?
A: Teams have 3 pairs of 2 paddlers/rowers. We start with a 1-hr group paddle at 8am on the 13th. Then, relay pairs go out from 9am until 11pm, alternating every hour. Each pair should be paddling for 1 of every 3 hrs.
Group paddle from 11pm-12am, then relay until 7am, final group paddle from 7am-8am.
Q: Weather conditions?
A: We watch the weather! We don't mess with Mother Nature. Safety first; If we have to get people out of the pool, we do it. The whole point is to raise awareness and funds for folks in need, not endanger lives.
Q: Can we raise funds for just one family?
A: This is up to the team. The main goal is to inspire the community to help the community. That said – cancer sucks and if your team decides that their efforts are best focused on one family – then absolutely do that.
Q: The money. How does this work?
A: Each team raises funds for their local community. Grass roots, on-the-ground help. No red tape, foundations or questions of where does the money actually go. We set up a GoFundMe account and get money to the families on a personal basis.
Q: What should I bring?
A: If you have paddle gear, great. If not, we'll have some rentals available at 1/2 price, or you may borrow another paddler's gear, if it's available! Water bottle, sun protection, towel, change of clothing, overnight/sleeping gear if you are going to be on a 24-hr team. Jim Hanson has an eclectic playlist, and you are welcome to share yours, too!
Q: What about medical personnel?
A: There will be at least one RN or Wilderness First Responder on site to make initial assessments and administer first aid, as needed. The park is accessible via road, and AT&T cell service is strong throughout 90% of the park. 2-way radio can make up for the difference in the other 10%. Bottom line, you are close to ambulance response, if needed, and there are great medical facilities just 15 minutes away in St. George, UT, in an emergency scenario.