Merci pour votre visite!
Vous pouvez consulter le plan ci-dessous pour savoir où se trouvent les tuyaux d'arrosage et les douches en plein air si vous vous êtes baignés dans le lac. Nous espérons que vous avez fait une agréable visite et que vous en avez appris davantage sur notre mer intérieure unique !
Si vous souhaitez prolonger votre découverte du parc, vous pouvez longer le rivage jusqu'à Saltair. C'est un bâtiment à l'est du lac qui se caractérise par de très grands dômes jaunes sur son toit.
Fritch Island, un lieu de nidification pour les oiseaux de mer, se situe à l'ouest du parc du Great Salt Lake. ll vaut mieux ne pas s'en approcher, car ces oiseaux sont très territoriaux. On peut apercevoir cette colonie d'oiseaux depuis la route de gravier parallèle à l'autoroute.
Il est possible de marcher ou de conduire sur la route de gravier jusqu'à Black Rock. Il s'agit du site d'une station balnéaire à proximité du lac qui n'existe plus. C'est l'endroit idéal pour nager et faire du bateau. On dit que Brigham Young aurait visité cet endroit trois jours à peine après son arrivée dans la vallée.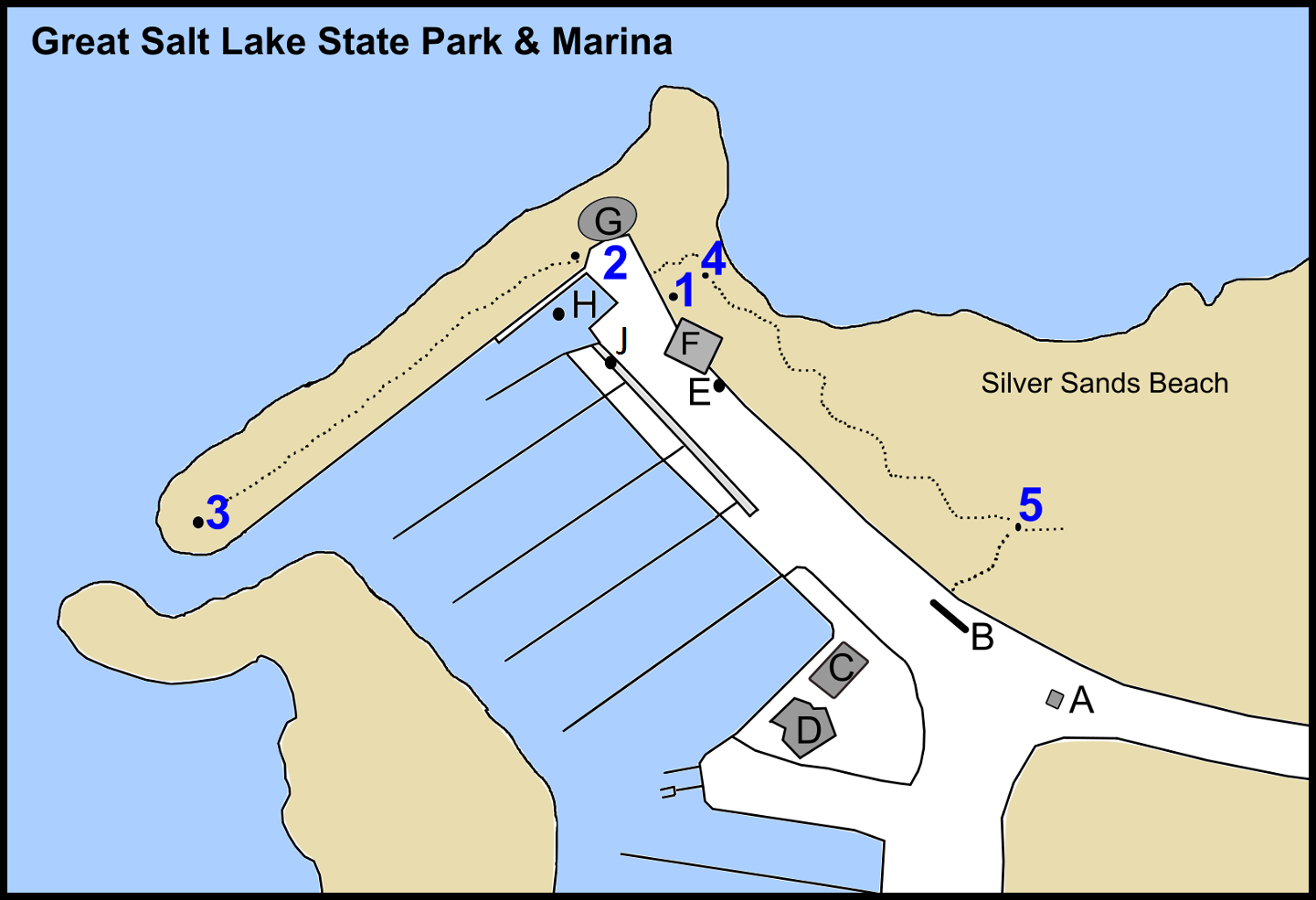 A : Entrée/sortie du parc
B : Lavage des bateaux, nettoyage des chaussures et rinçage des pieds
C : Toilettes
D : Club nautique (bateau et canoës)
E : Rinçage des pieds
F : Centre des visiteurs
G : Terrasse d'observation
H : Rampe de mise à l'eau des bateaux
I : Lavage des pieds
---
Merci aux donateurs qui ont rendu cette visite possible :
Friends of Utah State Parks
JSI Development
Bringham Young University's Center for Language Studies
Utah State University's Department of Language Studies
---
Visite auto-guidée : Bienvenue!
Point de repère 1 – Derrière le centre des visiteurs
Point de repère 2 – Terrasse d'observation
Point de repère 3- Entrée du Lac à la Marina
Point de repère 4 – Promenade au bord de l'eau
Point de repère 5 – La plage de Silver Sands
---
Translation by Kenneth Bedwell, Drew Hemsley, and Yvon Le Bras
---