Events
Now featured in our special exhibit gallery…
ParkCraft Minecraft Exhibit. Come in and check out a digital version of our park. Students built a life-like version of Frontier Homestead State Park in the Minecraft world.
Annual Schedule of Events
This is a basic guideline of events held at the park throughout the year. Please check with the park before planning event attendance.
Weekly – Tuesdays     Story Time every Tuesday 10:00-10:30 a.m. FREE
Monthly – 2nd Wednesdays      Iron County Historical Society program, 7:00 pm on the 2nd Wednesday of each month; FREE
Monthly – 1st Wednesdays     Wonder Wednesday, 4:00 to 6:00 on the 1st Wednesday of each month September – April we provide an activity for elementary-aged children; FREE
March     Sheep to Shawl – learn about the process of taking wool from the sheep's back to yours; 10:00 am to 4:00 pm, on a Saturday in March; $2/person, $8/family. March 12, 2022
May     Archaeology Day – explore the world of archaeology; 10:00 am to 4:00 pm on the 1st Saturday of May; $2/person, $8/family. May 7, 2022
July and August     Enjoy the Southern Utah Watercolor Society exhibit in our special exhibit gallery all month long during July and August, regular entrance fee applies.
August     Military Appreciation Day – free entrance for current and past members of the armed forces; 9:00 am to 6:00 pm on the 2nd Saturday in August. August 13, 2022
October     Haunted Homestead – Cemetery tours, a haunted house, games & activities for the whole family, evenings about a week before Halloween; $2/person, $8/family. October 18 – 22, 2022. Check with us for each day's offerings.  A free self-guided cemetery tour is available all month. 
October     Cedar Livestock & Heritage Festival at the Cross Hollows Event Center, 10:00 am to 4:00 pm usually the last weekend in October – look for our booth for hands-on pioneer activities. October 28-30, 2022
October     Cowboy Church – a fitting closing to the Livestock and Heritage Festival, Cowboy Church is held right here at Frontier Homestead State Park on the Sunday following the Festival, 10:00-11:00 am FREE. October 30, 2022
November     Iron Mission Days – special community days of living history/pioneer craft demonstrations & hands-on activities, Thursday through Saturday usually the 2nd or 3rd weekend in November $2/person, $8.00/family. November 11-12, 2022
December     Holidays at the Homestead – activities and entertainment for the entire family Wednesday through Saturday 5:30-8 each evening, approximately 2 weeks before Christmas $2/person, $8.00/family.  December 7-10, 2022
December     Lights at the Homestead – Enjoy a relaxing stroll through the park among the holiday lights and decorations, 5:30 to 8:00 each evening December 20 through 24 (excluding Sundays). FREE, Donations Accepted. December 20-24, 2022.
Christmas in the Hunter House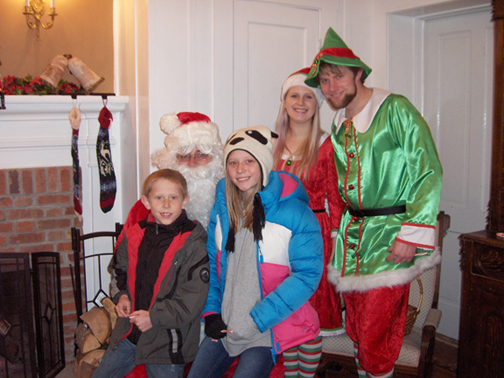 The Sagebrush Fiber Artisans provide demonstrations during Sheep to Shawl