Current Conditions
Sailboat Beach Launch is closed due to low water. Please plan accordingly. 
Day-Use: Open.  
Summer rates apply.  $20 for weekends and holidays and $15 on weekdays.
Reservoir Surface: 
Open water.
Ice Conditions:  There is no ice at this time.
Main Boat Ramp is OPEN.  Courtesy docks are in.  Fish cleaning station is OPEN! 
Island Boat ramp is OPEN.  The courtesy dock is in place.
Charleston Boat ramp closed due to low water levels. No parking on beach.  Remember to display quagga certification in windshield.  
Additional Fishing Info:  Fisherman reporting good success.

Camping Info
Chokecherry Campground is open for camping. Hookup sites are $35/night with electric and sewer hookup's.  Tent sites are $25/night.  Extra vehicles are $15.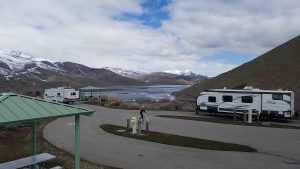 Great Horned Owl Campground open.  Sites are $25 per night, extra vehicles are $15. 
Reservations are recommended for summer camping, and can be made up to 4 months in advance.  Unreserved camp sites are first come first served day of only.  Reservations accepted between May 15th and October 15th.  All camping will be closed starting November 1st.
You can make campground reservations
online
or call 1-800-322-3770.
Dog Information: 

Deer Creek State Park is a watershed, thus dogs are only allowed in the campground.
Aquatic Invasive Species Information– It's official!  Deer Creek is no longer a suspect lake for Quagga Mussels!  Boaters no longer have to wait the dry time period to launch at another water body in Utah.  We encourage you to continue to clean, drain and dry to prevent the spread of mussels.
ANY boats coming from infested waters such as Lake Powell, Nevada, Colorado, Montana, California, New Mexico, Arizona and Mexico and Canada MUST be decontaminated BEFORE entering Deer Creek reservoir.  Decontamination are only available at the Main park area and no longer available at the Island Ramp.  For more information, visit STDoftheSea.com
Decontamination Schedule:
Decontamination hours are from 9 am-7 pm, Friday, Saturday & Sunday. Monday – Thursday are by appointment only, 3 – 7 pm. 
Summer Fees-
Entrance Fee:
$15 per vehicle Monday-Friday $20 per vehicle on Weekends and Holidays
Senior Entrance Fee (62 and older):
$10 per vehicle
Summer Camping:
Chokecherry Campground Sites (full hookup):  $35 per night
Chokecherry Campground Tent Site:  $25 per night
Great Horned Owl Campground Site: $25 per night
Extra Vehicle:  $15 per night
Towed Vehicle:  no charge
Fun Activities-
Deer Creek Island Resort offers boat rentals, food, convenience store, and wedding parties, call (435)654 2155 to make a reservation.  Closed after Sept. 15th.
Uinta Kiting offers kite surfing lessons call (435) 647-6676.
Zipline Utah offers year-round zip line tours in the Rainbow Bay day use area, call (801)367-2575
Island Aqua Park is closed for the season.