Hammock Camping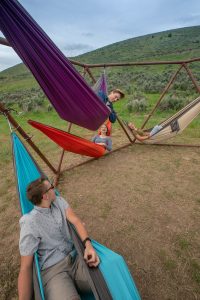 #HangWithUs at the new Hammock Campgrounds located at both East Canyon State Park and Red Fleet State Park.
This new hammock camping structures are the perfect chance to try out a new outdoor experience. The structure holds up to 10 hammocks at once; and setting up your hammocks is as simple as 1-2-3!
The sites also come with a covered picnic table, as well as a campfire pit. Even better, the beautiful waters the two reservoirs are located nearby.
Perfect for boy scout troops, family outings, college students, or anyone who may want to experience something new.
Don't have your own hammock? No problem, rent one from us!
East Canyon State Park: Big Rock Campground – Site 25 (BG25).
$8 hammock rental; $20 for site reservation
Red Fleet State Park: Red Fleet Campground – Site 38 (RF38).
Free hammock rental; $35 for site reservation
Reserve yours today!