Staying Safe This Labor Day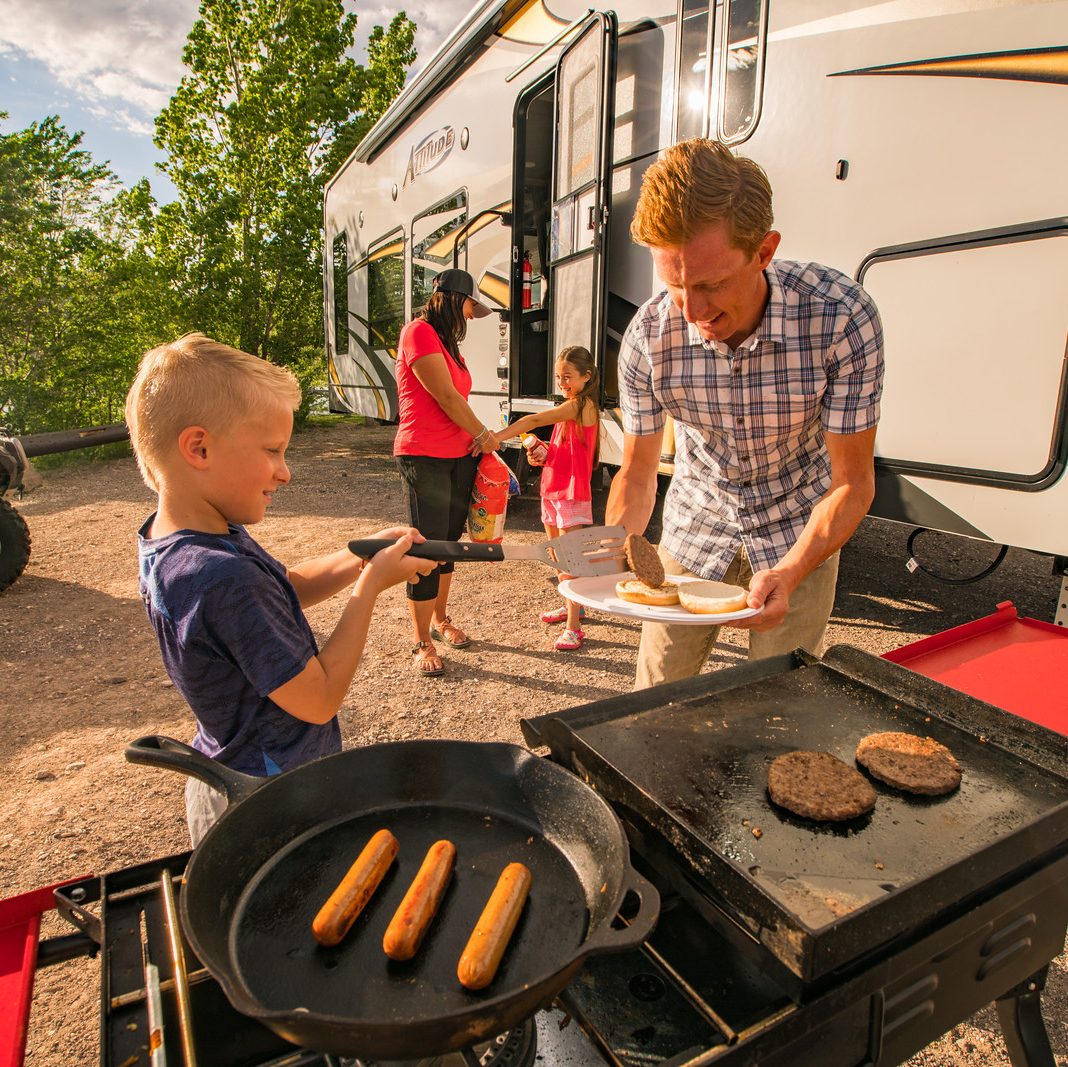 September 2, 2022
Heading out this weekend to soak up the last sun-filled days of summer? It's no secret that it's HOT out there. With Labor Day weekend almost upon us, Utah State Parks has some tips to help you enjoy your extended holiday safely.
General Safety Tips
Tell someone where you are going and when you plan to return.
Take a friend along with you. Don't go it alone.
Check the weather, fire restrictions, and current conditions at the park before getting on the road.
For those heading to a reservoir or lake state park, be sure to check our boat ramp conditions as low water levels may have impacted your ability to launch.
Pack an emergency kit. It's worth investing in a kit that at least has the basics for dealing with a minor injury. Familiarize yourself with what's inside the kit beforehand and add anything you think you might need.
Bring a cell phone, radio, or other devices to help you communicate in case of an emergency.
---
Heat Safety
Spending time in extreme heat without understanding the risks can put you in a life-threatening situation. More information on heat safety can be found here.
Make sure you have enough water for the duration of your activity or trip.
Consuming alcohol increases dehydration risk since it is a diuretic. Don't make the mistake of thinking the fluids in alcoholic beverages will keep you hydrated.
Caffeine is also a diuretic, so do not rely on coffee, tea or soda as your main source of hydration.
Opt for fabrics that wick moisture away from your body (avoid cotton). Don't forget a pair of UV-blocking sunglasses and a broad-brimmed hat!
Always wear sunscreen to shield yourself from the sun's harmful rays—even on overcast days. Protect yourself with at least SPF 30 and reapply as needed.
Extreme conditions are not the time to push yourself. ​​Go at an even pace, be honest with yourself, and know your own limits and abilities.
Know the signs of heat exhaustion and heat stroke. Heat stroke is the most serious heat-related illness. It occurs when the body becomes unable to control its temperature. Heat stroke can cause death or permanent disability if emergency treatment is not provided.
---
Life Jackets / Personal Flotation Devices
The bottom line is: Life jackets save lives. Nationally, 80% of people who drowned in boating accidents would have survived had they been wearing a life jacket.
Always wear a properly-fitted life jacket for water-related activities such as boating, paddleboarding, kayaking, waterskiing, etc. Utah Law requires that all boats have at least one wearable U.S. Coast Guard-approved life jacket for each person on board. Passengers 12 years old and younger must wear a properly sized Coast Guard-approved life jacket whenever a boat is in operation.
Make sure your life jacket is Coast Guard-approved. All approved life jackets will have a U.S. Coast Guard approval number on the label.
Inspect your life jacket before heading out. Make sure it's not torn, is in good condition, is free from mold/mildew or waterlogging, and that the material isn't showing any signs of shrinkage. You should test your jacket to make sure there aren't any leaks.
Keep in mind that boating under the influence of drugs or alcohol is NO DIFFERENT than driving your car under the influence. The same penalties apply, including suspension of driver's license, possible jail time, and fines. Always have a designated driver.
For more information about life jackets, including requirements, check out this useful guide.
There are several different options when it comes to life jackets. Learn more about how to choose the right one here:
---
Helmets
Before your head out on your ride, always take the time to put on and fasten your helmet. We also recommend buckling your seatbelt if you're in a UTV.
Helmets are required for riders and passengers under the age of 18, but we recommend that everyone wears one.
When properly worn, helmets won't reduce vision or hearing, and may even help to cut out windblast. 
Gloves, abrasion-resistant clothing, and over-the-ankle boots are also highly recommended.
Be alert to oncoming traffic, especially on blind curves or in dips and crests of hills.
It is illegal to drive an OHV while under the influence of alcohol or drugs.
Learn more about Utah's OHV laws and rules here.
---
Alcohol
Alcohol and drugs do not mix with any type of vehicle, including off-highway vehicles. Alcohol is allowed on all boats; however, it is against the law for a person under the influence to operate a motorboat.
Boating under the influence (BUI) is the same as driving under the influence. The same penalties apply, including suspension of driver's license, possible jail time and fines. If you are going to drink, don't drive.
Consuming alcohol increases the risk of dehydration since it's a diuretic. Don't make the mistake of thinking the fluids in alcoholic beverages will keep you hydrated. If you plan on having a drink or two, experts recommend drinking 8-12 ounces of water for every alcoholic drink to counteract the dehydration risk.
---
We hope you'll put these tips to good use as you head out to celebrate Labor Day. Have a happy and safe holiday weekend, and remember to practice #ResponsibleRecreation.