5 Tips to Enjoy the Falls at Gunlock State Park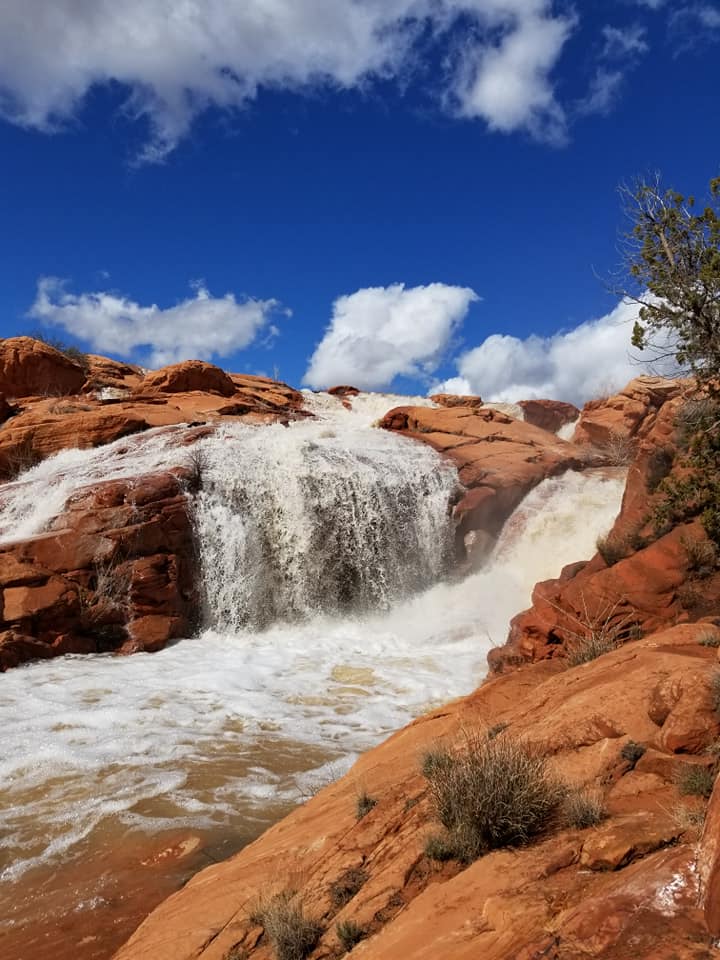 March 16, 2023
With such a snowy winter for most of Utah, it's no surprise that the falls at Gunlock State Park are flowing this year! These rare seasonal waterfalls only form when runoff spills over the dam.
The waterfalls create a stunning contrast with the arid desert environment and attract a lot of photographers and sightseers. However, they also pose some potential hazards that you should keep in mind. Here are five helpful tips for your visit:
1. Be Aware. The water flowing over the dam is swift and powerful, and it can carry large debris such as tree limbs, rocks and dirt. The debris can injure or trap anyone who gets too close to the edge. Additionally, the rocks around the falls are slippery and uneven, making it easy to fall or twist an ankle. Recreating on the rocks near the waterfalls is dangerous, and covered hazards exist in the pools. We strongly encourage you to use caution and be observant in the area. Keep a safe distance from the falls.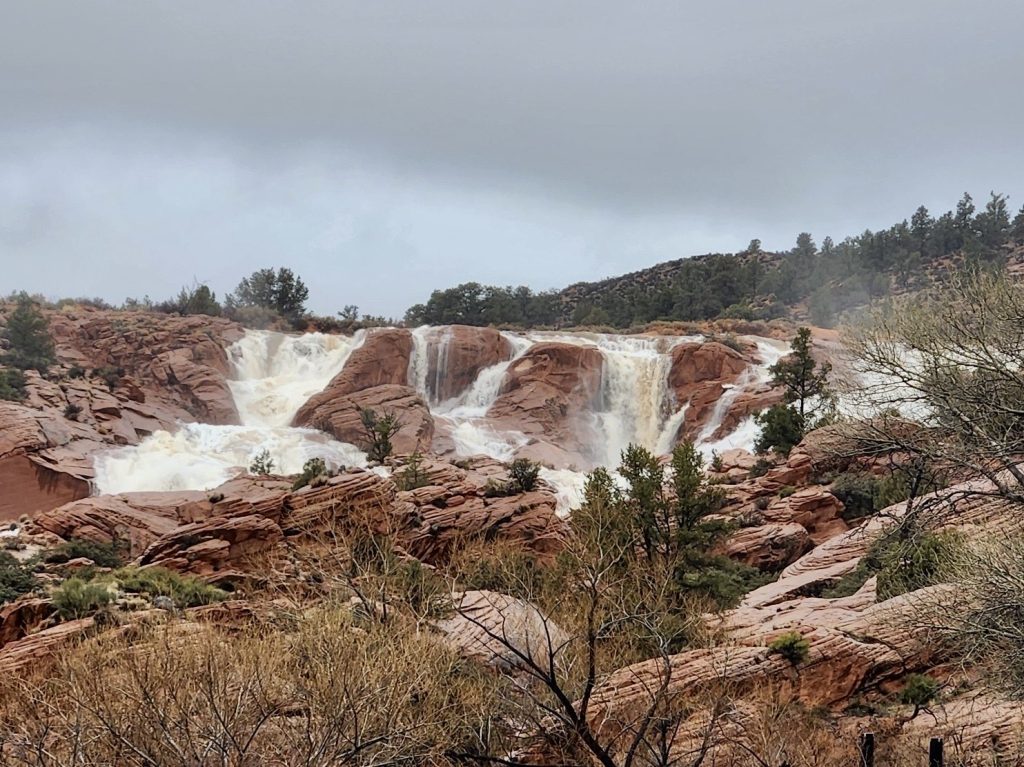 2. Check Park Conditions Before You Leave. The waterfalls are not always present at Gunlock State Park; they depend on snowmelt and weather conditions. Due to high amounts of runoff this season, debris may accumulate near the top of the falls. This debris presents safety hazards for park visitors and the dam. When this happens, crews will actively work to remove the debris as quickly as possible. During this time, you will not be allowed in the immediate area until work concludes, but you can still view the falls from a safe distance.
Also, because of the waterfall's popularity, there is a chance that the park will reach capacity. Once this happens, additional visitors will not be admitted until it is back under capacity. To avoid disappointment, check Gunlock State Park's Waterfall Watch on Facebook before planning your trip to see if the falls are flowing or if there are any advisories.
3. Recreate Responsibly. Gunlock State Park has several amenities for you to use during your stay. Please recreate responsibly by cleaning up after yourself, utilizing the restroom and trash facilities, keeping animals leashed, respecting others, and following appropriate safety precautions.
4. Bring the Right Gear. To help ensure a more comfortable and safe visit, we recommend wearing sturdy footwear and bringing essential items such as sunscreen, hats, jackets, sunglasses, and water bottles. These items will help protect you from the elements, making your experience more enjoyable.
5. Explore Gunlock and Other Nearby Parks. Visiting the falls is not the only fun thing to do at Gunlock State Park; there are so many other activities and attractions to discover. You can rent kayaks and explore the reservoir; fish from the shore or boat; hike along trails that offer scenic views of the reservoir and surrounding mountains; camp at one of the primitive sites along the shoreline; or visit nearby state parks like Snow Canyon, Quail Creek or Sand Hollow.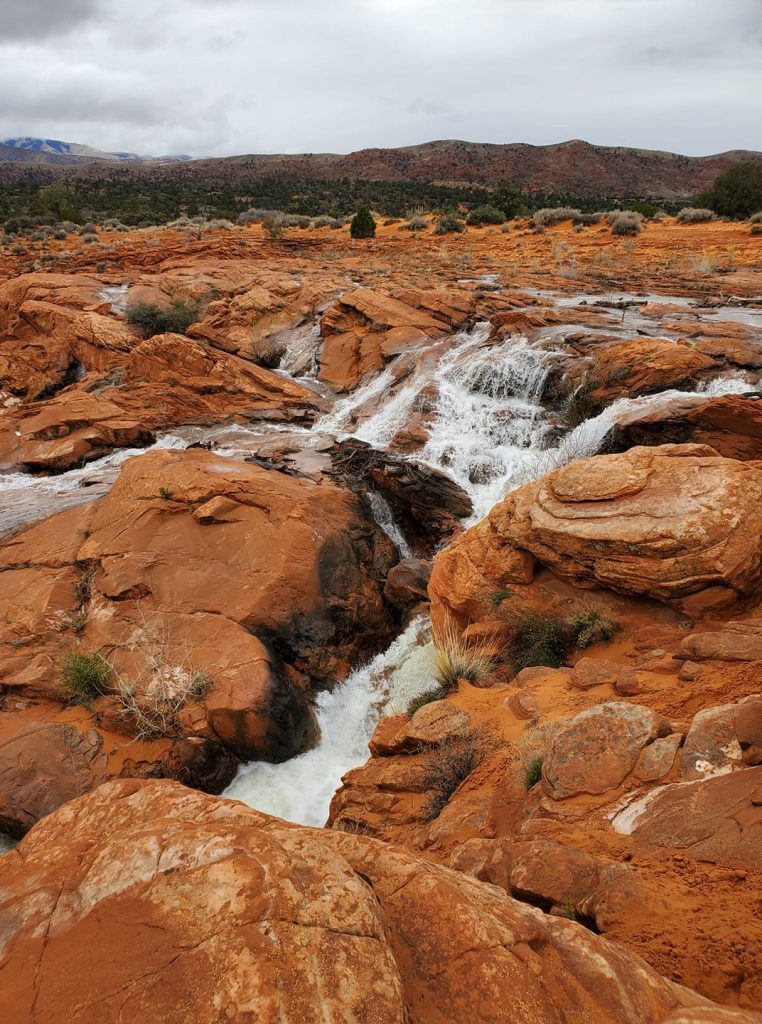 Gunlock State Park is a great place to experience nature's beauty and diversity, and the falls are a rare sight to behold. While the responsibility rests with individuals and families to use discretion and to recreate safely, Gunlock State Park staff have posted caution signs along trails and on the dam reminding visitors of the hazards. Park staff and rangers will also patrol the area more often to engage with visitors. We strongly encourage families to use caution and be observant in the area. By following these tips, we hope you safely enjoy the falls and have an unforgettable time.