Join Us for the 2023 Quadfishathon!
Jan. 4, 2023
SALT LAKE CITY — Kick off the ice fishing season by joining us at the 2023 Quadfishathon — the biggest state park ice fishing tournament in Utah!
This four-park ice fishing tournament includes Echo State Park, Lost Creek State Park, Rockport State Park, and East Canyon State Park. Participants can register for just one of these stops, but discounts on entry fees are available when you register for all four!
Each of the four state park locations allows participants a unique opportunity to experience one of Northern Utah's hidden gems.
Register for the Quadfishathon!
---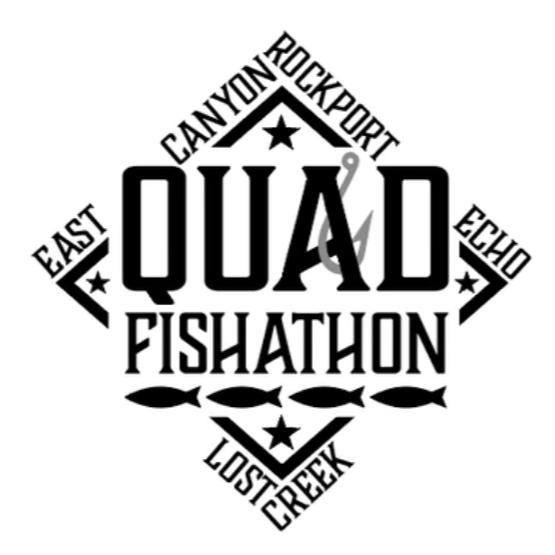 Registration Dates & Fees
Please note registration for the combined four-tournament package closes on January 12th.
Echo State Park: January 14
Registration Closes: January 12
Lost Creek State Park: January 28
Registration Closes: January 26
Rockport State Park: February 4
Registration Closes: February 2
East Canyon State Park: February 11
Registration Closes: February 9
$50/park or $150 for all four!
---
Prizes
Individual Park Prizes
1st Place | $500
2nd Place | $300
3rd Place | $200
Quad Prizes
1st Place | $1000
2nd Place | $650
3rd Place | $350
A live raffle will be held after the end of the quad tournament.
---
Rules
No Cheating: Law Enforcement will be observing the tournament. If you are caught cheating you will be expelled from the tournament.
Pre-Registration Required: You must pre-register for the event before fishing.
OHVs: allowed but they must use the launch ramp for entry and exit from the lake.
Possession Limit: Four fish. Each participant can measure up to 4 fish during the contest. Any fish measured will be considered toward the participant's legal fish limit. Reminder the "Slot" rule at Lost Creek will be adhered to. Only 3 fish under 15" and one fish over 22" can be measured. If you are in violation you may be subject to a citation.
Awards: given to first, second, and third-place participants with the largest measured trout. (tiebreaker will be the largest fish measured first.)
Fishing Guidebook: All rules of the fishing guidebook will be followed. You must have a valid Utah fishing license.
Sportsmanship: Courtesy, sportsmanship, and conservation must be displayed at all times.
Party Fishing or Group Fishing: not allowed. You may not fish near someone who is not signed up for the tournament.
Tents: Will be allowed but you can not set up a tent until 7 AM of each tournament event.
No Coolers: will be allowed on the ice.
Injured Fish: If any of the fish are injured they must be kept as part of your limit (except at Lost Creek).
Fish Length: You may measure up to 4 fish at each park. Your longest fish measured will be the fish on record for the individual park tournament. If you participate in the quadfishathon, your longest fish measured at each park will go towards your combined length total for the overall tournament. A fin will be clipped. Park/Wildlife staff will measure the fish and record the time caught at the official measure station. Their decision will be final and can be not disputed.
Time: The tournament starts at 7:00 AM and ends @ 2:00 PM. No tournament anglers will be allowed to drill holes until 7:00 AM. Fish can be checked anytime during the tournament hours. You must be in line at 2 pm. If you are not in line at 2 pm your fish will not be measured.
Results: recorded as the fish are entered.
Testing: State Parks reserve the right to test the top three fish to verify the time caught. Fish must be freshly caught.
Disqualification: Any cheating or violation of rules will result in disqualification.
REFUNDS: No refunds or transfers