What is #ResponsibleRecreation?
This is a blog post. Click here for our permanent Responsible Recreation webpage.
April 2, 2020
Exploring Utah's state parks and recreation areas is a great way to exercise, escape cabin fever, and relieve anxiety and stress. However, in the wake of the COVID-19 pandemic, we all must do our part in practicing #ResponsibleRecreation.
"Responsible Recreation" means acknowledging that we all have a role in keeping one another safe. To help, we've outlined some of the key ways to help you play your part in being a responsible recreator.
"Pack It In – Pack It Out"
Keeping parks and recreation areas clean and tidy is a key part of ensuring an enjoyable outdoor experience for everyone. Please utilize appropriate garbage and restroom facilities. If none are available, please remember to pack out what you bring in.
Facilities at your favorite recreation area may or may not be impacted by the virus. We ask that everyone respect facility closures when they occur. Facilities that could be impacted include visitor centers, campgrounds, restrooms, and more.
Stay Home if You Are Sick
We ask anybody who may be feeling sick or having COVID-19-related symptoms to please stay home and avoid outdoor recreation at this time. Seek the guidance of your doctor or health professional.
We also ask that our visitors utilize healthy hygiene practices and follow the recommended "Clean-Avoid-Cover" guidelines.
Clean your hands with soap and water or an alcohol-based sanitizer. Avoid close contact with anyone who is experiencing flu-like symptoms. Cover your nose and mouth when you cough or sneeze with a tissue or into your upper sleeve — do not use your hands.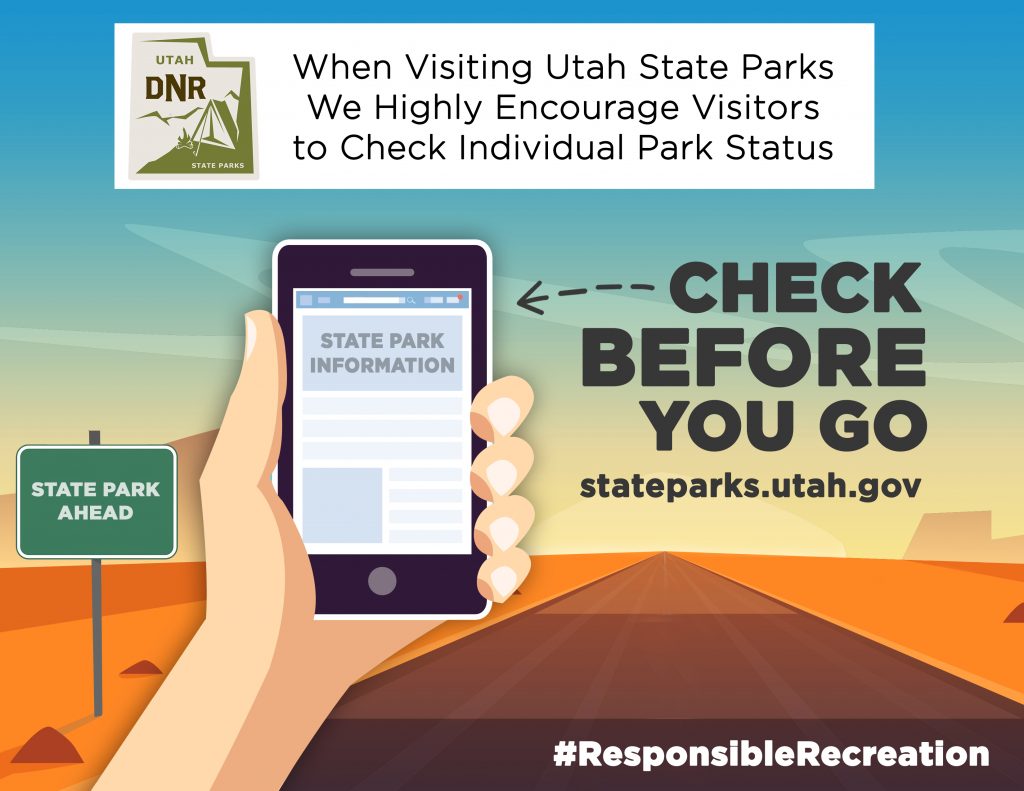 Check Park Status and Conditions
Before getting on the road, visit stateparks.utah.gov or the individual state park's social media account to check the park conditions. Here you can see if parks are having extended wait times, facility impacts, and more.
Those wanting a bigger picture of what outdoor recreation looks like in Utah during the COVID-19 pandemic can also visit the State of Utah's official Coronavirus Outdoor Recreation webpage. Here, state and federal land managing agencies have teamed up to help Utahns get the information they need in order to make informed decisions about how and where they choose to recreate.