2020 Winterfests Events
The roaring '20s are here! Now is the perfect time for some wintertime fun. Not sure where to start? Don't worry, Wasatch Mountain State Park, East Canyon State Park, and Bear Lake State Park, have got you covered with fun Winter Festivals.
Oh, did we mention there is even a Winter 4×4 Jamboree? Check out the list below for details on each event.
---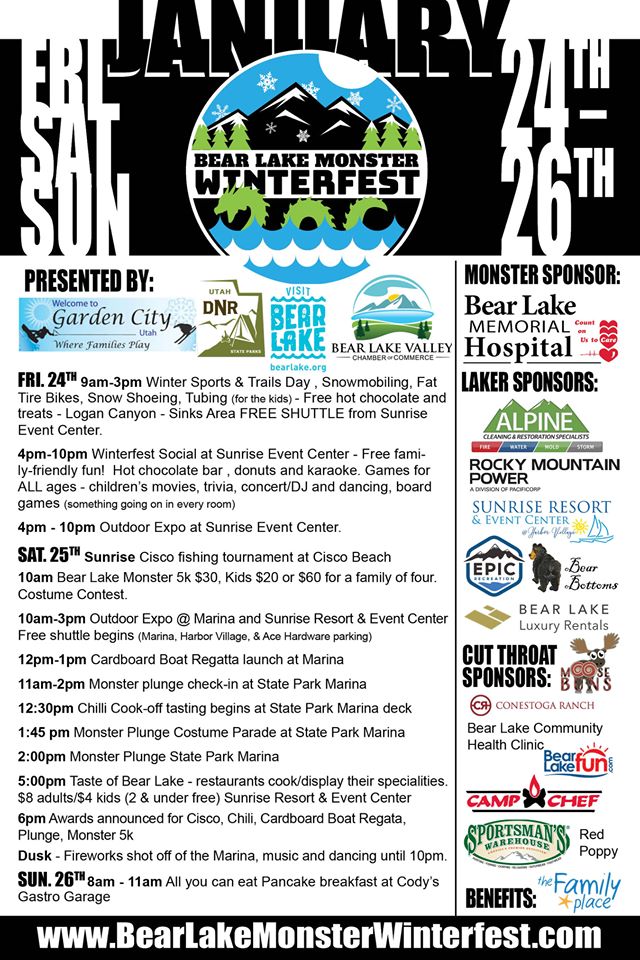 Bear Lake Monster Winterfest
January 24-26, 2020
The Bear Lake Monster Winterfest is Bear Lake's biggest annual winter event. This family-friendly event is being hosted is on January 24-26, 2020.
Most activities take place in the Utah Bear Lake State Park Marina. The state parks entrance fee at the Marina will be waived for those attending the event, with a hope that you'll donate to the charity that the event is fundraising for.
There are a plethora of activities to attend at this event, including the Monster Plunge, Cisco Disco, Chili Cookoff, and an outdoor expo. The festivities start at sunrise, so be sure you get there early.
Check Out the Bear Lake Monster Winterfest Website!
---
East Canyon Winterfest
January 18, 2020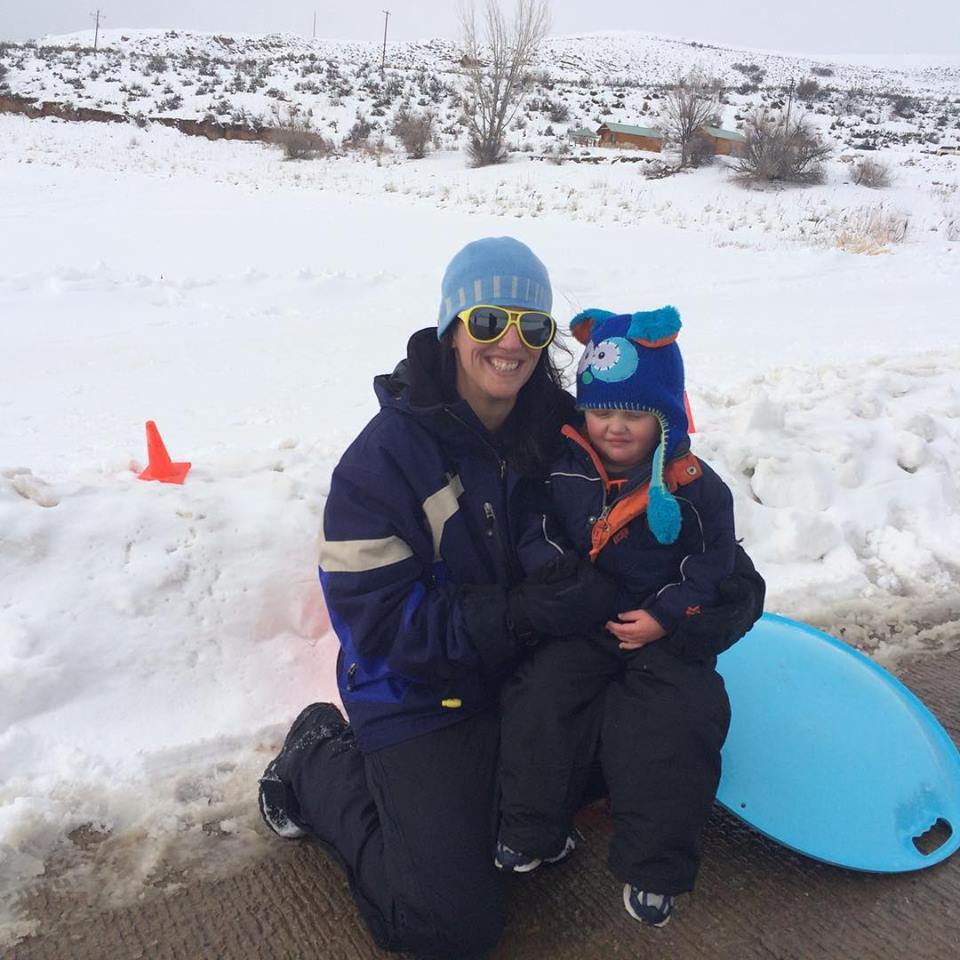 East Canyon State Park is where the first Winterfest Celebration was born, so it lends to reason they have an idea or two about how to make it an experience you'll remember.
Join us at the park's 7th Annual Winterfest with multiple activities including cross-country skiing, tubing, snowmobiling, and much more. The fun goes from 11 am – 3 pm.
Please remember to dress warm for this event. It can get quite cold outside!
For more information please call East Canyon State Park at: 801-829-6866 or visit the East Canyon State Park Eventbrite page.
It's our 7th annual Winterfest event! Want to learn how to cross country ski? Or take a ride on a snowmobile? Ever wanted to learn how to ice fish? Or have fun on our tubing hill. We will also have our local Audubon Chapter to help visitors get a close up look at our beautiful winter birds, especially Bald Eagles. Park fees apply. Join us for winter fun!
Learn More About the East Canyon Winterfest!
---
Wasatch Mountain Winterfest
January 11, 2019
Head on up to Midway on January 11 for the third annual Wasatch Mountain State Park Winterfest for free rentals, education sessions, sled dog demonstrations, and more.
The party starts at 10 a.m. Saturday morning and continues until 2 p.m. Utah State Park day-use fees apply.
We can all agree that playing in the snow is fun. Snowmen, snowballs, and snow angels are classics. But why stop there? At this 2019 Winterfest event, Utah State Parks staff will have snowshoes, cross-country skis, and fat-tire bikes available for all visitors to try for free. This is one of the only times these snow toys will be available to use at no cost, so be sure to not let this opportunity pass you by.
There will also be sled dog demonstrations, avalanche awareness education, snowmobile demos, hot food and drinks for purchase, and more.
So, whether you are a cross-country skier, snowmobiler, snowshoer, or want to try cycling in the snow, this event is for you.
Because of the popularity of this event, those wanting to attend are required to RSVP. Please call 435-654-1791 to make your reservations for equipment.
---
Winter 4×4 Jamboree
January 16-18, 2019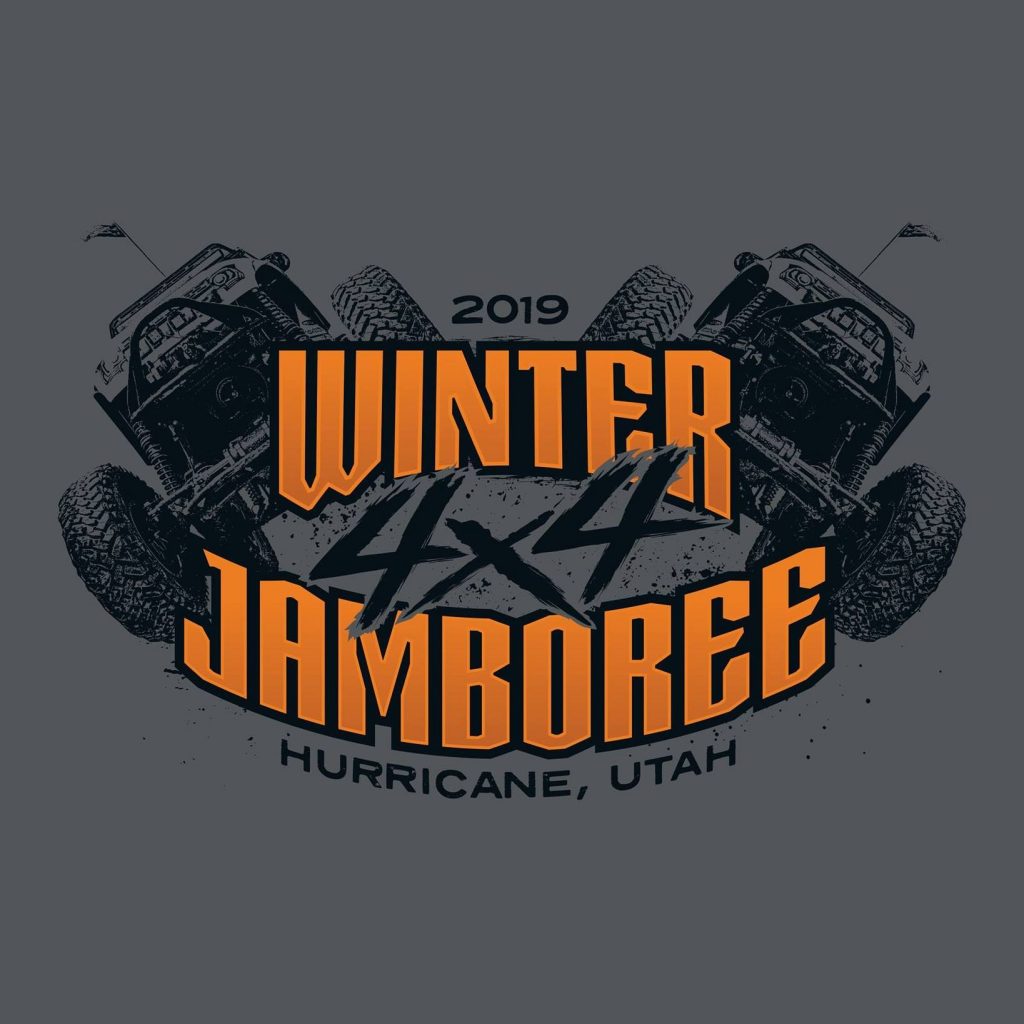 This spectacular event features world-class rock crawling combined with gorgeous views of Zion National Park, Pine Valley Mountain, Sand Hollow State Park, and more!
The Winter 4×4 Jamboree is a non-competitive trail run event for high clearance 4×4 vehicles. Groups of participants are led on rated trails by experienced trail leaders and helpers.
Trails are rated on a 10 point scale, with a rating of 1 for graded roads that may be easily traveled by most cars and a rating of 10 for purpose-built vehicles (buggies) with sophisticated suspensions and drivetrains operated by expert drivers.