First Day Hikes 2019
Utah State Parks is kicking off 2019 with another installment of our annual First Day Hikes on New Years Day.
This year we are hosting hikes at four different state parks: Antelope Island State Park, Dead Horse Point State Park, Great Salt Lake State Park, and Fremont Indian State Park Museum.
Antelope Island State Park
We are offering two options this year, both with start at 10:00 am. Dogs are welcome on a leash. Regular entrance fees apply.
The shorter hike will begin at the Buffalo Point trailhead. It will be approximately one mile total, on this up and back trail. On this hike, you will top out on Buffalo Point with sweeping views of Great Salt Lake.
The longer hike is a six-mile loop starting at the Lakeside trailhead in White Rock Bay. The hike is around the bottom of Buffalo Point. This hike is considered a moderate difficulty due to the length.
---
Dead Horse Point State Park
Join us at Dead Horse Point at 10 am for a celebratory hike ushering in the new year.
Hike and duration are dependent on the weather but expect a hike of anywhere from 1 to 3 miles.
Bring a couple liters of water, clothing for the weather, and excitement. Dogs welcome on a 6′ max leash. Meet at the Visitor Center.
---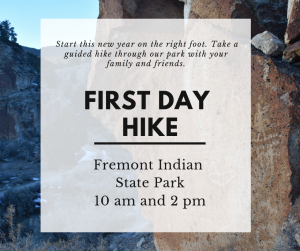 Fremont Indian State Park Museum
Join us at 10 am and 2 pm New Years Day for a refreshing walk around our Parade of Rock Art, Court of Ceremonies and Hidden Secrets Trails. The hike will be guided and will start from the visitor center.
Please dress for the weather and bring water. The hike should take about 1 hour.
There is no additional charge for this guided hike. Contact the park via phone for more details at: 435-527-4631.
---
Great Salt Lake State Park Marina
Park Assistant Manager Jim Wells will lead a two-mile roundtrip hike starting from the Marina at 12:45 pm.
The history-rich route will cover Sunset Beach all the way to Black Rock.
For morei nformation visit the park website.