New Campground Opens at Gunlock
June 28, 2022
GUNLOCK STATE PARK — Have you heard the buzz about the new campground at Gunlock? That's right, more places to camp! You can even reserve them online now—but don't you want to hear all about them first?
On June 8, 2022, a ribbon-cutting ceremony was hosted at the park to celebrate the opening of the campground, which features a total of 30 standard sites that allow travelers in tents, RVs, and trailers. Each site has 20, 30, and 50 amp power, a pedestal, and water. There is also a dump station available.
"The beauty of Gunlock is in the memories you can create here with your family and friends," said Gunlock State Park Manger Jon Allred in his remarks. "This campground is more than just sites, pedestals, water, sewer, and things—it's memories! And for generations to come, people will talk about coming to Gunlock and camping."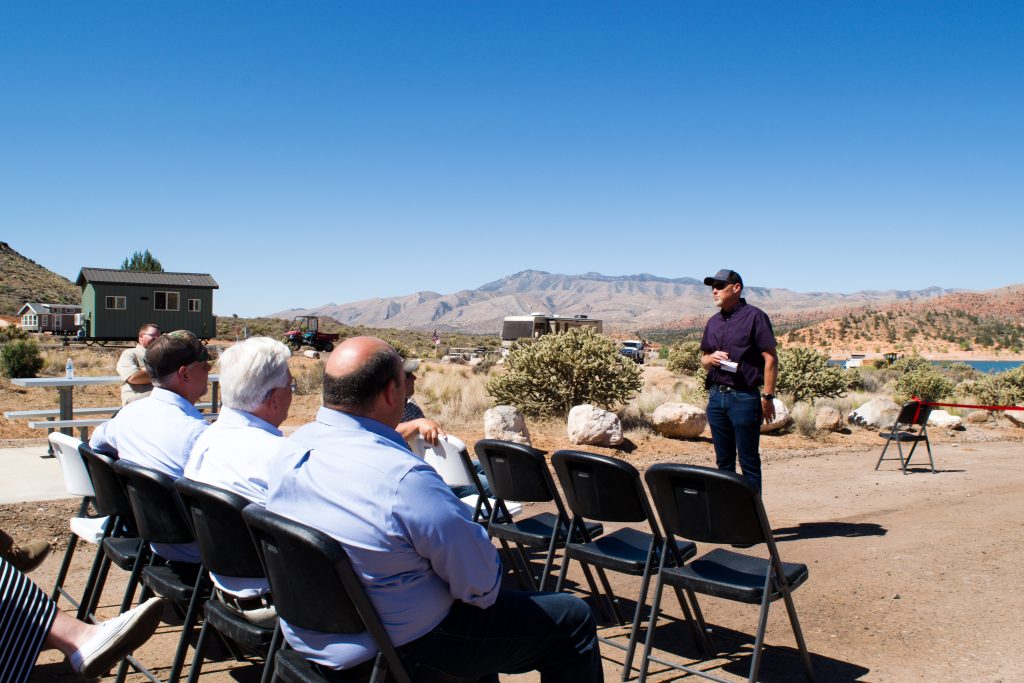 Jeff Rasmussen, Director of the Utah Division of State Parks, began his speech by offering thanks to legislators.
"The legislature got the funding to State Parks to be able to make this happen," he said. "They've seen the demands of people wanting to get out and recreate. They came with the resources to be able to do things—like this campground—that we've needed to do for a long time."
He also emphasized how important local partnerships are in making projects like this come to fruition.
"We couldn't do any of this without all of the partners that we have," Rasmussen said.
Utah State Parks, the Utah State Legislature, and local communities work together to expand and improve our beautiful state parks. The new campground at Gunlock State Park is an exciting improvement for park visitors, but projects like this one also help to energize local economies. Visitors to state parks often stay at local hotels, eat at restaurants, and frequent stores and gas stations. The improvement and expansion of park amenities also create jobs for contractors, park staff, private concessionaires, and more. There are currently 14 similar projects underway at several other parks across the state.
Gunlock previously offered access to only five primitive campsites with vault toilets and no potable water. Now, in addition to the new hookups for drinking water and electricity, each site has a fire pit, a picnic table, and access to a restroom building with private showers and flush toilets. If you haven't been to Gunlock State Park lately, it sounds like it's time for a visit!
Watch the video below for highlights of the ceremony.