OHV Volunteers Leave No Stone Unturned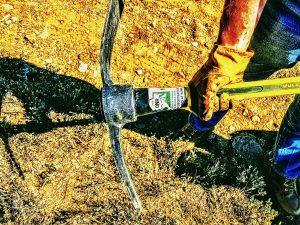 RICH COUNTY, UT — We talk a lot about trail projects done by volunteers belonging to riding clubs or trail crews. What we don't often hear about are the dedicated businesses working to ensure visitors enjoy their experience.
Thousands upon thousands of visitors travel to the Bear Lake Valley every year to boat the blue waters of Bear Lake, hike the lush green canyons, and even snowmobile the world-famous Utah snow.
To help give back to the OHV community, several Rich County businesses volunteered their time and assisted with a volunteer project. Led by Brian Lundhal, owner of the Beaver Creek Lodge, these volunteers spent all day prying large boulders out of the ground along Swan Flat Road – a snow-grooming route.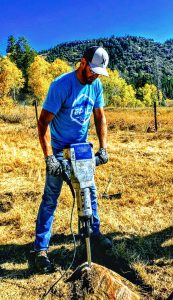 When it comes to snowmobile trails, grooming is essential to trail maintenance. With winter right around the corner, many groomers are preparing for the start of the season. Trail grooming can be a costly operation, especially when equipment breaks down or is damaged.
In the early and late season times, these large rocks protrude up through shallow snow and can damage the grooming blades. These rocks can also spell danger for riders as well.
"It is amazing what can be accomplished with a jackhammer, rock bars, and a few dudes with great attitudes," OHV Program Volunteer Specialist Mike Thomas said. "This is grueling work, as each boulder is deceivingly larger than it appears."
These volunteers demonstrated a strong work ethic with this project. These local businesses also showed that volunteer service is just as important as customer service when it comes to recreation.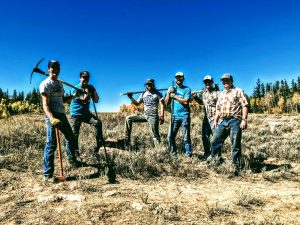 Businesses involved in the project include the Beaver Creek Lodge, Epic Recreation, and Bear Lake Recreation.
If you're a snowmobiler and you spot someone from Beaver Creek, Epic, or Bear Lake Recreation, be sure to thank them for their work.
This volunteer opportunity was made possible through funding and partnership with the Utah BLM, U.S. Forest Service, and Division of Parks and Recreation OHV Program.
Curious about upcoming volunteer projects or want to learn more? Contact the OHV Program for more information by emailing ohveducation@utah.gov.
Learn More About Epic Recreation
Check Out Bear Lake Recreation