Park Events
Park Events                   Special Use Permits                    Hailstone Event Center
June 1, 2019 EVENT – Sail-a-palooza
Park City Sailing Association will be having clinics, races, and information about their organization and programs at their annual Sail-a-palooza event.  Come see what it's all about!  sailpc.org
June 8, 2019 EVENT – Free Fishing Day
A fishing license is not required this day, however, all other regulations apply.
June 22, 2019 EVENT – Race Tri Triathlon @ Rock Cliff
Rock Cliff recreation area will be CLOSED from about 5 PM on Friday, June 21, 2019, until 5 PM Saturday, June 22, 2019.  Day use, campgrounds, and adjacent waters will be closed to the public for the dates listed.  Spectator access will be permitted by shuttle.  The ramp at Hailstone will remain open to the public.  Please plan accordingly.  If you reserve a campsite for Saturday, June 22, you may not check in prior to 5 PM.  Go to http://www.racetri.com/rock-cliff/ for more information.
June 22-23 2019 EVENT – PCSUP Paddle Festival @ Hailstone
Park City SUP Festival consists of paddleboard races on Saturday and Sunday.  The races take place in the wakeless areas near the day use beach.  The races will start around cabanas 1-6 and travel along the peninsula and across the bay.  The area will have limited access due to the races taking place on the water.  Beach access for day use will be open except for where the racers are entering the water and finishing.  Go to http://www.parkcitysup.com/ for more information.
June 29, 2019 – County Cooperative Weed Spray Day @ Rock Cliff and Perimeter Trail
Wasatch County, park personnel, and volunteers will be spraying noxious weeds along the Perimeter Trail and around Rock Cliff and Ross Creek.  Spraying will start around 7 AM and will end later in the day as weather and wind allow.  If you are interested in volunteering for this event, please contact the park.  Dedicated Hunters may also earn volunteer hours.  Contact your DWR Dedicated Hunter coordinator.
ALL SUMMER – Personalized Interpretation Programs @ Hailstone
Choose from 5 different programs and our volunteer naturalist will give a 20-minute program from the comfort of your own campsite or pavilion.  Choose from the following programs:  Flowers of Jordanelle State Park, The Creepy Crawly Critters, Geo-History of Jordanelle, Introduction to Star Gazing, and Stories of the Sky.  Programs are free and are available on Fridays and Saturdays from 6:30 PM to 10:00 PM.  You must sign up by 6:00 PM on the sign-up sheet at Murdock Camp Services.  *No programs on the weekend of July 13 due to Fire on the Water event.
July 13, 2019 EVENT – Fire on the Water @ Hailstone
Come join us for an evening of fun!  This will be our 11th annual event!  Live music from 3 PM to 10 PM.  Food, beer, hotdog eating contest (7:30 PM), boat parade of lights (9:15 PM), and one of the best fireworks show around (10 PM sharp!).  Games and kids zone will be available with free and paid activities.  Only $25 per carload up to 8 people.  Annual pass holders will be required to pay the $10 event fee.  Any day use or camping reservations will have the event fee automatically added to their reservation.  An internal park shuttle will be available from 4 PM to 11 PM for no additional charge from various parking lots and the campground.  We were unsuccessful in securing off-site shuttle service.   The park will be very busy and congested due to this popular event.  The event will take place in the day use public beach area and wakeless areas of Hailstone.  Boat access may be restricted in the wakeless area during the event.
July 20, 2019  EVENT – Kayak Fishing, LLC Bass Fishing Tournament
Come test your skill as at this multi-park fishing tournament.  Sand Hollow April 13, Mantua May 18, Deer Creek June 15, Jordanelle July 20, East Canyon August 17, Hyrum September 21, and a championship round October 19 (location TBD).
TBD July 2019 EVENT – PCSA Summer Regatta @ Hailstone
Minimal public impact.  There will be some congestion at the PWC ramp.  Contact Park City Sailing Association for more information on this event.  http://sailpc.org/
August 4, 2019 EVENT – Salt City Bassmasters Tournament @ Hailstone
Small fishing tournament of 15-30 boats.  Impacts should be minimal.  Access will not be impacted.
August 10, 2019 EVENT – Veteran's Appreciation Day – Veterans Salute 5K, Fun Run, and Pancake Breakfast @ Hailstone
Free day use entry for all current and retired military.  Simply show your military ID at the gate.
Show your patriotism and honor our current and past military veterans by running this 5K!  All proceeds will go to the National Ability Center's Veteran and Military Programs.  Runners will receive a bugle "First Call" start and run through beautiful Jordanelle State Park.  Along the course, runners will past through time as they run by banners for representing each of the major wars:  WWI, WWII, Korean, Vietnam War, Gulf War, and the War on Terror.  All 5K runners will receive participation medals and race shirts. $20/person.  Awards will be given out for 1st, 2nd, and 3rd place finishers according to age categories as well as for overall race awards.  All Fun Run participants will receive a medal.  Additional fee for race shirts.  Fun Run/Walk begins at 7:30 AM.  The 5K begins at 8:00 AM.  Race packets can be picked up the day before the race (9AM-6PM) and on race day.  Race entry for the military is FREE with DOD ID.   pancake breakfast will also be available for an additional fee from 8:30 AM to 10:00 AM (free for Veterans).  $3/person and 3 and under are free for the pancake breakfast.   5K Racecourse 2017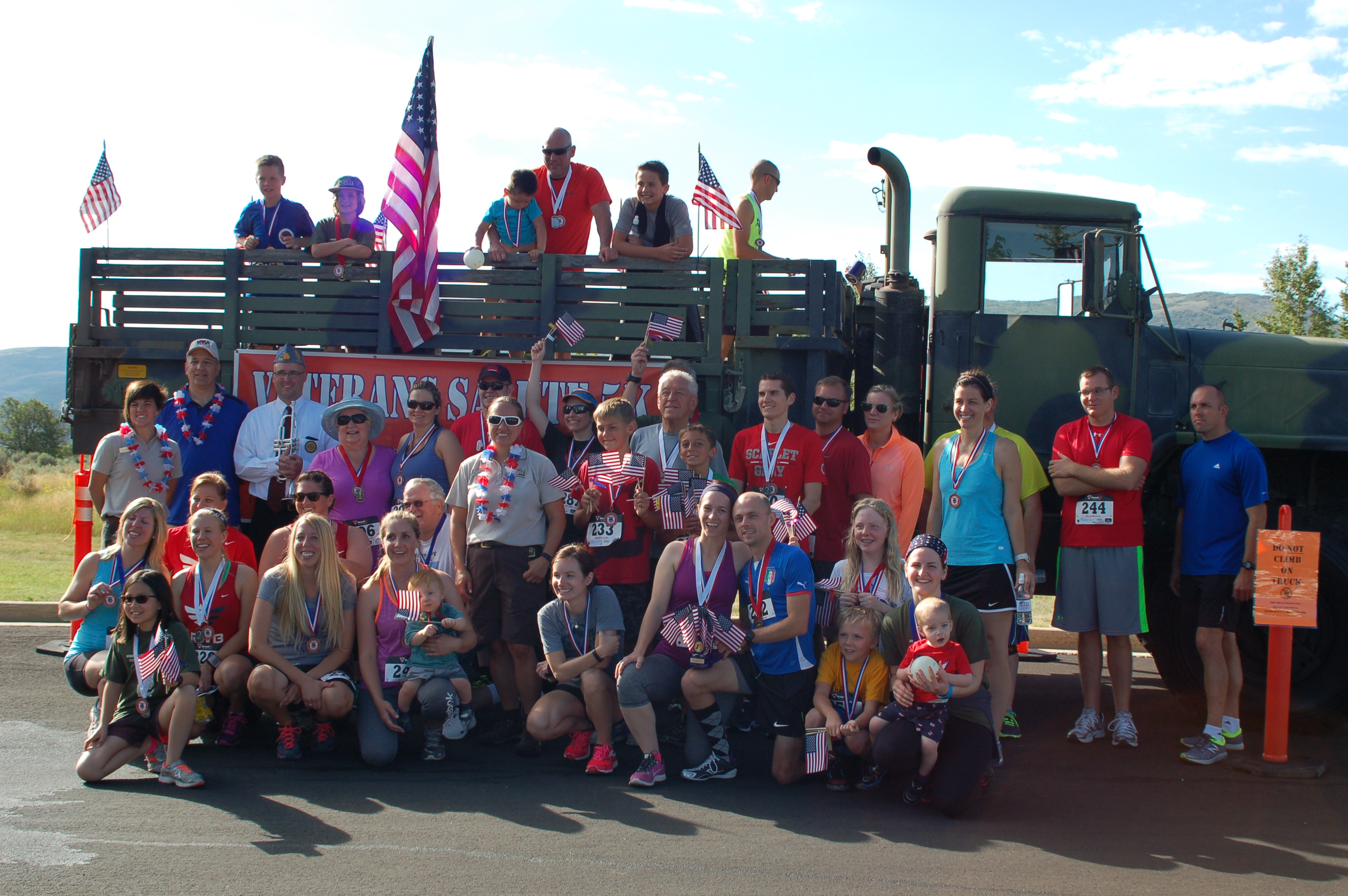 TBD August EVENT – Junior Sailing Regatta @ Hailstone
More info to follow.  Contact Park City Sailing Association for more information on this event.  http://sailpc.org/
August 24, 2019 EVENT – Valkyrie Multi-Sport Relay
This event will start at Ross Creek, participants will run the perimeter trail to Rock Cliff. At Rock Cliff, they will Kayak up the east arm and back to the Rock Cliff boat ramp. Participants will then bike out of the park and down SR-32 toward Heber City. Ross Creek will be closed from 6 AM – 12 PM, and Rock Cliff will be closed from 6 AM – 4 PM.
TBD August EVENT – PCSUP P3 – Paddle Pedal Paddle @ Rock Cliff East Arm and Perimeter Trail. 
The event will take place at the Rock Cliff ramp, along the shoreline, and on the Perimeter Trail.  Athletes will start on their stand up paddle boards, then mountain bike on the trail, then back to the boards to finish.  The trail and ramp area may be congested.  Please plan accordingly.  This event will start and end at Rock Cliff.  Go to http://www.parkcitysup.com/ for more information.
TBD August EVENT – Star Party Program @ Hailstone
The Salt Lake Astronomical Society will be hosting a star party at Jordanelle.  The program will start at dusk at the Hailstone Event Center.  The program is free with your camping or day use fees.  If you are just attending the program (entering the park around 9 PM or so, there is no cost for entry).
September 11, 2019  EVENT – Patriot Day 
Free day use for all military (current and retired), law enforcement, firefighters, EMS, and emergency responders.  Simply show your ID at the gate.