2019 Was Antelope Island State Park's 50th Anniversary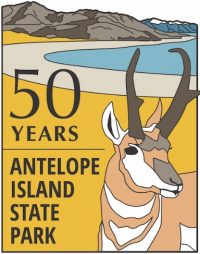 We're 50! To celebrate the opening of Antelope Island State Park in 1969, we are holding several events throughout the year designed to showcase this incredible state park and the many recreation and scenic opportunities available to the public.
---
Celebrate With Us!
50 Miles for 50 Years Challenge!
Take the challenge to hike, bike, run or horseback ride on 50 miles of beautiful Antelope Island State Park trails and roads through 2019! You will enjoy breathtaking landscapes, natural wonders, improved fitness, and a chance to win some cool prizes!

Download the 50 Miles for 50 Years Brochure/Log Sheet and hit the trails!

Take a look and see who has become a 50 Mile Champion!
---
Scavenger Hunt
Explore and search the park far and wide to discover answers to several questions about the park's past and present, history, wildlife, ecology and more. All areas associated with this scavenger hunt are accessible via car (no hiking required).
Download the clues here, or stop at the Visitor Center to get a copy.
After completing the scavenger hunt, turn your answer sheet in at the Visitor Center to receive a limited Antelope Island 50th Anniversary Commemorative Pin.

---
---
A Short History of Antelope Island
It seems people have always loved Antelope Island. Its abundant wildlife, countless recreation opportunities, and unique natural resources have made it a popular destination for thousands of years. Evidence of human activity dates to at least 4,000 BCE. Latter-day Saint pioneers explored the island within weeks of arriving in the Salt Lake Valley in 1847. Even during the 120+ years that it was private property, people went through a lot of trouble to sneak across the lake for a hike.
Talk and plans to build beach resorts and other tourist destinations on Antelope Island were almost constant through the early 20th Century. In 1969 the north 2,000 acres became a state park, opening beaches and hiking trails for public access. In 1981, the state began managing the entire island, allowing everyone the opportunity to enjoy its beaches, trails, historic sites, and stunning views. Now, 50 years later, we continue to care for this captivating island that means so many different things to so many people.
---
Antelope Island Through the Years